While we all want a better transport system, disruption fatigue is becoming a real factor for passengers, particularly on the train network.
On some lines, there have now been major disruptions every year since 2016.
Not all of these are in the name of better rail services. This winter a two week shutdown of lines to western Melbourne will be primarily for construction of a WestGate Tunnel off-ramp.
The Cranbourne/Pakenham line continues to be hit with rail replacement buses, despite years of work to remove level crossings, upgrade power supplies, rationalise track around Caulfield, and build the Metro tunnel.
Recent shutdowns have included weekday peak hours to enable testing of new high capacity signalling systems.
There are numerous shorter disruptions, some affecting weekdays as well as evenings and weekends. In fact there are so many that there is now information overload on the official web sites, making it increasingly difficult to find what is relevant to your journey.
This is not helped by incomplete, incorrect and sometimes contradictory information. It's almost as if officials themselves are confused about the disruptions.
If you are brave enough to travel, replacement buses are very hit and miss. Sometimes they are frequent and fast; sometimes they are delayed, slow and packed.
Anecdotally, all these disruptions are contributing to more people driving, or choosing not to travel at all.
For passengers on the Cranbourne/Pakenham lines, every week this year except one has seen planned bus replacements at one time or another.
But the real danger is that passengers will give up on the rail network, and switch to driving permanently.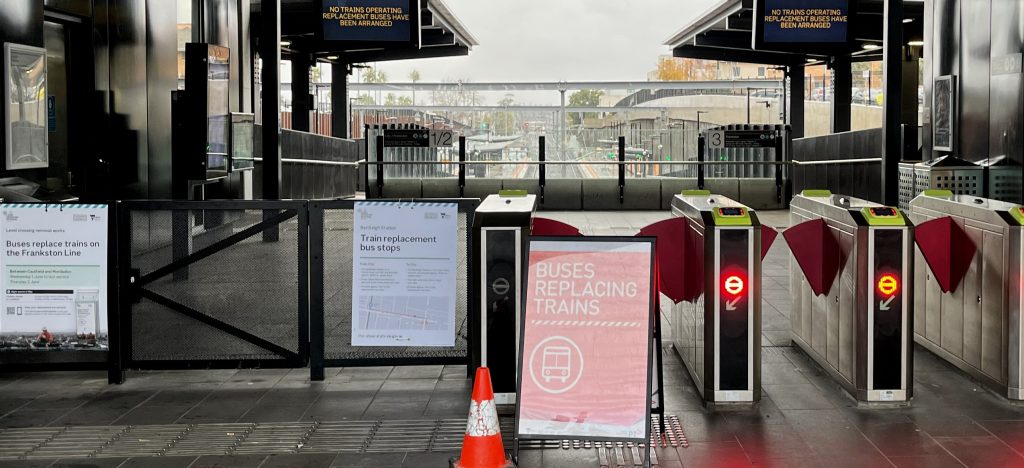 For the most part, the closures are in the name of a better, more reliable public transport network.
But can multiple projects be coordinated? Can the closures and replacement buses be better planned and resourced, so they cause less disruption?
In the first weekend in June, shutdowns of the Frankston and Dandenong lines started on a Friday night just as a big game at the MCG finished up. If works could have started an hour later, a lot of buses and bother would have been saved for footy crowds.
It's also worth considering the Level Crossing Removal Program. It's been highly successful at providing newer DDA-compliant stations, improving safety, and cutting delays to buses, trams, cyclists, pedestrians and cars alike.
But is also incredibly disruptive and expensive, and for most projects, train service increases and local bus route reform have not resulted.
Can the LXRP be better planned by removing crossings on a line-by-line basis rather than revisiting and disrupting lines repeatedly over years?
And now that many of the worst crossings have been removed (or are underway), is it time the government pivoted away from constant construction and started prioritising service upgrades?
We all want upgrades, but if budgetary pressures force Victoria's Big Build to slow down and prioritise, will long suffering passengers be complaining?
From the PTUA's June member newsletter.
To receive regular newsletters and support our campaigns, join now.