Numerous people have been asking us about the claims in the "MyRailLine" brochures and web site, launched by the Coalition in an effort to convince rail passengers to re-elect them.
Here's the summary — you can read all the detail below. Our judgement is that some of the Coalition's claims are justified, some false, and some are somewhere in between.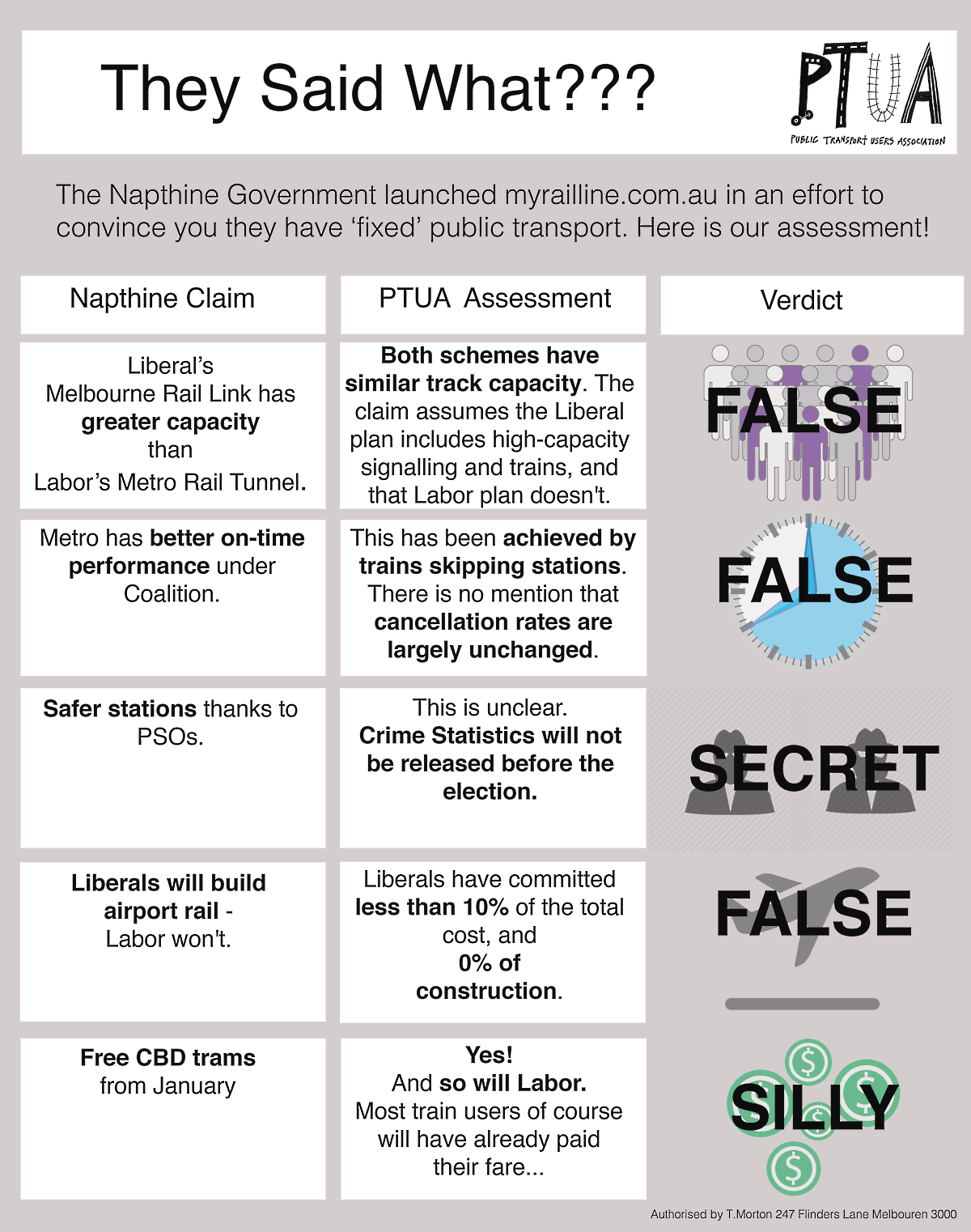 Full details
All lines:
Coalition claim
PTUA view
Verdict
Coalition-backed Melbourne Rail Link has greater capacity than Labor-backed Metro Rail Tunnel.
In reality both schemes have similar track capacity. The claim assumes the Liberal plan includes high-capacity signalling and trains, and that Labor plan doesn't.
False
Better on-time performance under Coalition.
This has been largely achieved through padding the time-table (often to excess) and skipping stations. There is no mention of cancellation rates, which have largely not changed.
Dubious
Safer stations thanks to PSOs.
It's unclear if any stats to back this up, since many stations have very little crime, though anecdotal evidence suggests most people do feel safer with their presence… but not before 6pm, as PSOs are not on duty then.
Probably justified (but where's the evidence?)
Coalition will build airport rail link, and that Labor won't.
It is true Labor have said they don't consider Airport Rail a priority.

However the Coalition has funded less than 10% of the total cost. Actual construction isn't yet funded, and won't start until at least 2016.

Dubious
Free CBD trams from January
Of little benefit to existing train users (which is who the Coalition's material is aimed at) because their fare to the CBD includes tram travel. In fact CBD trams are likely to get more crowded than at present.
True, but little or no benefit
"Labor & Daniel Andrews will jack up fares by 44 per cent for travellers within zone 2."
This Coalition claim is apparently based on a single radio interview in July where Daniel Andrews incorrectly said zone 2 would be removed. It has been repeatedly contradicted by Labor policy material which clearly says zone 2-only fares would remain.
False
"Labor Will rip up Swanston Walk for four years to build proposed Melbourne Metro."
Coalition estimates for disruptions to Swanston Street have varied between two and ten years. The actual truth is unclear, but many cities (including Melbourne) have built rail tunnels without major disruption.

There is likely to be disruption to north/west and Clifton Hill rail lines during construction of the Coalition's East West Link (just as there were disruptions to the Ringwood line when EastLink was built).

Dubious
"Labor has NO plan for second road crossing of the Yarra River, NO Airport Rail Link and NO real plan to reduce congestion."
EWLink won't cross the Yarra River, nor is it the "second" river crossing. Nor, as decades of road building has shown, will it reduce congestion.
Justified, even if factually wrong
The line-by-line claims are mostly less contentious. We've summarised them below.
Alamein – nothing specific. Includes Zone 2 claim despite the line not going into zone 2.
Belgrave – notes 3 level crossing removals (2 already done), Ringwood station re-development, extra services added.
Craigieburn – notes track upgrades and 29 extra services (already added?), Airport Rail Link (little use to most on this line, as it would be a huge detour)
Cranbourne – notes the Dandenong line package, and already-added extra services.
Flemington Racecourse/Showgrounds – "By building Melbourne Rail Link travellers will have new options to reach Flemington Racecourse and the Showgrounds precinct quicker and in more comfort than ever before." Also includes Zone 2 claim despite the line not going into zone 2.
Frankston – notes Bayside Rail project, Ormond level crossing removal.
Glen Waverley – notes Glen Waverley station upgrade; Burke Road level crossing removal, 26 extra weekly services (already added)
Hurstbridge – notes extra services
Lilydale – same as Belgrave
Pakenham – same as Cranbourne
Sandringham – notes extra services
South Morang – notes extra trains and services. Also notes "the opening of the Epping to South Morang line extension", a project which was funded by Labor in 2009.
Stony Point – notes improvements to the Frankston line "are positively impacting" the Stony Point line. Stony Point line passengers might disagree – PTV figures show line performance has taken a dive in the past few months, with many cancellations.
Sunbury – notes Calder Park stabling project, extra services.
Upfield – notes new services
Werribee – notes the Regional Rail Link project (mostly funded by State and Federal Labor) will help improve capacity.
Williamstown – We're not sure what to make of this claim: "The $4.5bn Regional Rail Link Project and 4000 extra weekly public transports (sic) services are helping to boost capacity and reduce congestion on the Williamstown line."
What's missing from the Coalition's material?
No mention of Southland station, promised in 2010, but construction yet to start
No mention of rail to Doncaster or Rowville, which were talked about in 2010, but have stalled
No mention of Geelong/Ballarat/Bendigo rail, which was also talked about in 2010
Other 2010 rail system promises not fulfilled include the promised High Speed Rail advocacy unit and Eltham North station
The government has also failed to order additional trams as promised in 2010, which would have helped cope with extra passenger demand generated by free CBD trams
No mention of the CPI plus 2.5% fare rises previously announced in December 2013 to occur four times, from January 2015 to 2018.
We're continuing to examine transport-related claims from all parties during the election campaign, and will be issuing a policy scorecard in the coming weeks.