The Premier has replied to our Open Letter. We thank Dr Napthine for his response, which as per his request you can read in full below — but feel we must comment on some of the points, which you will find below the letter.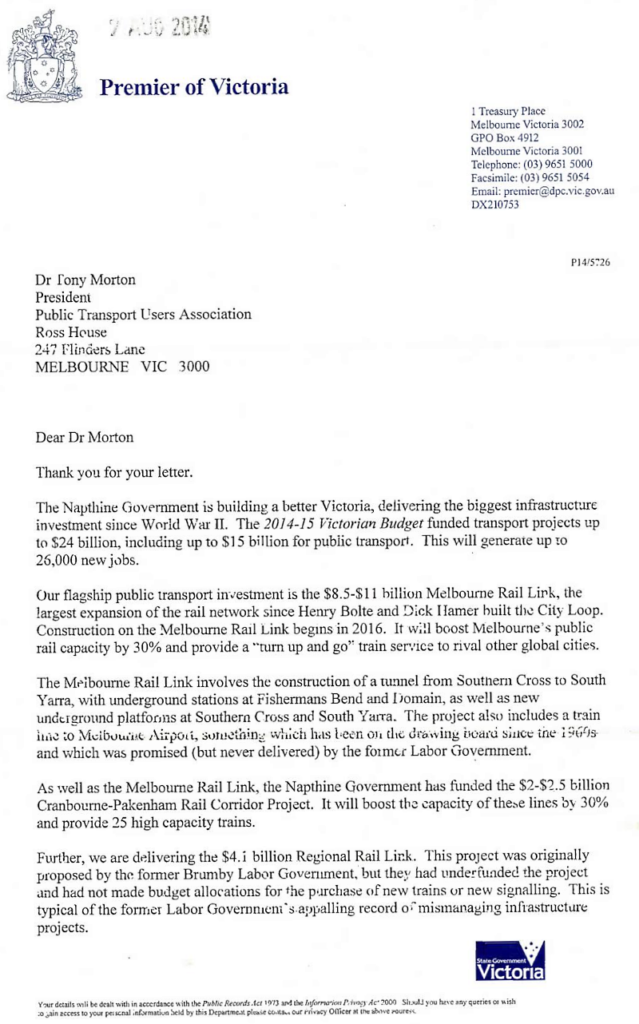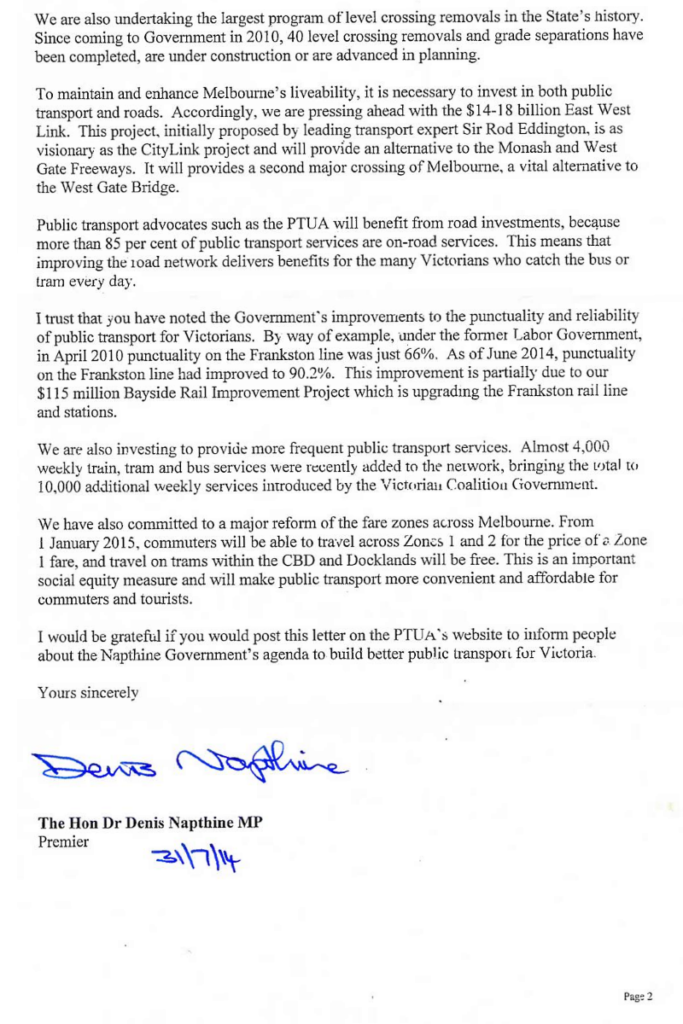 Our comments
Melbourne Rail Link (MRL)
While the now-scrapped Metro Rail Tunnel project had years of planning, MRL appears to have come out of nowhere. It's unclear if proper modelling has been done on its effects on the rail network (for instance the illogical through-routing of a line from the south-east with a line from the east, rather than a cross-city connection) nor if costs will blow-out during construction because of a lack of planning.
East West Link is storming ahead, but only a minority of MRL's construction cost has actually been funded at this time — less than 10% of the full estimated cost of at least $8.5 billion. There is no real indication of timelines for completion. Indeed, a future government could defer the project or abandon it entirely.
The government appears to have promoted a misleading comparison of capacity benefits by assuming the use of high-capacity trains and signals for MRL but not for the Metro Rail Tunnel project. When assessed on a similar basis the capacity benefits are similar for both projects.
Cranbourne-Pakenham project
These upgrades are welcome, and will bring the Dandenong line into the 21st century. However there is no commitment of similar upgrades on other busy rail lines, nor any commitment to continue to roll-out ten minute services, which are possible on most of the network now.
The capacity boost on the line would make the Rowville line possible, but the government has gone quiet on this, despite it having been stated as a priority at the 2010 election. They seem to want us to believe MRL (which may take a decade to build) is necessary for Rowville.
There remain questions over the planning and financial aspects of the project, particularly given it is likely to be funded as a PPP, eventually costing much more to the taxpayer than if funded directly by the public.
Regional Rail Link
Regional Rail Link will be a welcome boost for many V/Line passengers and for Melbourne's West, but was largely funded by the Federal Government, not the state.
While the project has been well-managed by the government, flaws such as the lack of interchange at North Melbourne have not been resolved.
Level crossings
Grade separation is very welcome; it allows more trains to run without impacting local communities, and cuts delays to tram/bus users, cyclists, pedestrians and motorists alike.
However it appears the 40 level crossings claimed removed by the Coalition includes 13 along the new Regional Rail Link line, where no level crossings have ever existed! It also includes projects not yet fully funded.
East-West Link
Despite what the Premier implies, no public transport is expected to use East-West Link.
North-south trams and buses could benefit today from better traffic light sequencing if such a change was considered a priority by the government. This doesn't need East-West Link to be built.
We have made our case against the East West Link in detail, and the government has not seen fit to respond directly to any points we or others have made. Traffic on inner-north arterial roads would be back to current levels within a decade after the EWL is operating, meaning there is no sustained benefit to be expected for public transport or traffic congestion from the EWL.
The EWL is actively detrimental to public transport, both because it starves the system of funds, and because its encouragement of additional car travel undermines future growth in public transport patronage and revenue and adds to traffic congestion elsewhere in Melbourne.
Train punctuality
On paper punctuality is improving, but this is largely due to timetable modifications to allow more running time, and Metro's practice of skipping stations when trains are running late.
There has been little or no progress on cutting cancellations.
Frequency
More services are very welcome, but data in the Budget Papers indicate service kilometres are barely keeping up with population growth.
The irony is there is a lot of government promotion for yet-to-be-fully-funded transport projects, but next to none for the frequent services that exist, so many potential passengers are unaware the upgrades have occurred.
Fare changes
Free CBD trams are of no benefit to the vast majority of public transport users, who already pay for all-day travel in the CBD as part of their zone 1 daily fare.
The capping of two-zone fares at the zone 1 level provides relief to long-distance CBD commuters, but exposes a much greater number of short-distance travellers to the risk of greater fare increases in future, as we have seen happen in Adelaide.
In conclusion, we thank Dr Napthine for his detailed response, and we are pleased to see some important public transport projects proceeding. But we remain deeply concerned that the East West Link will divert attention and funding away from urgently needed upgrades, and all for an incredibly expensive motorway that has no mandate from the Victorian people.