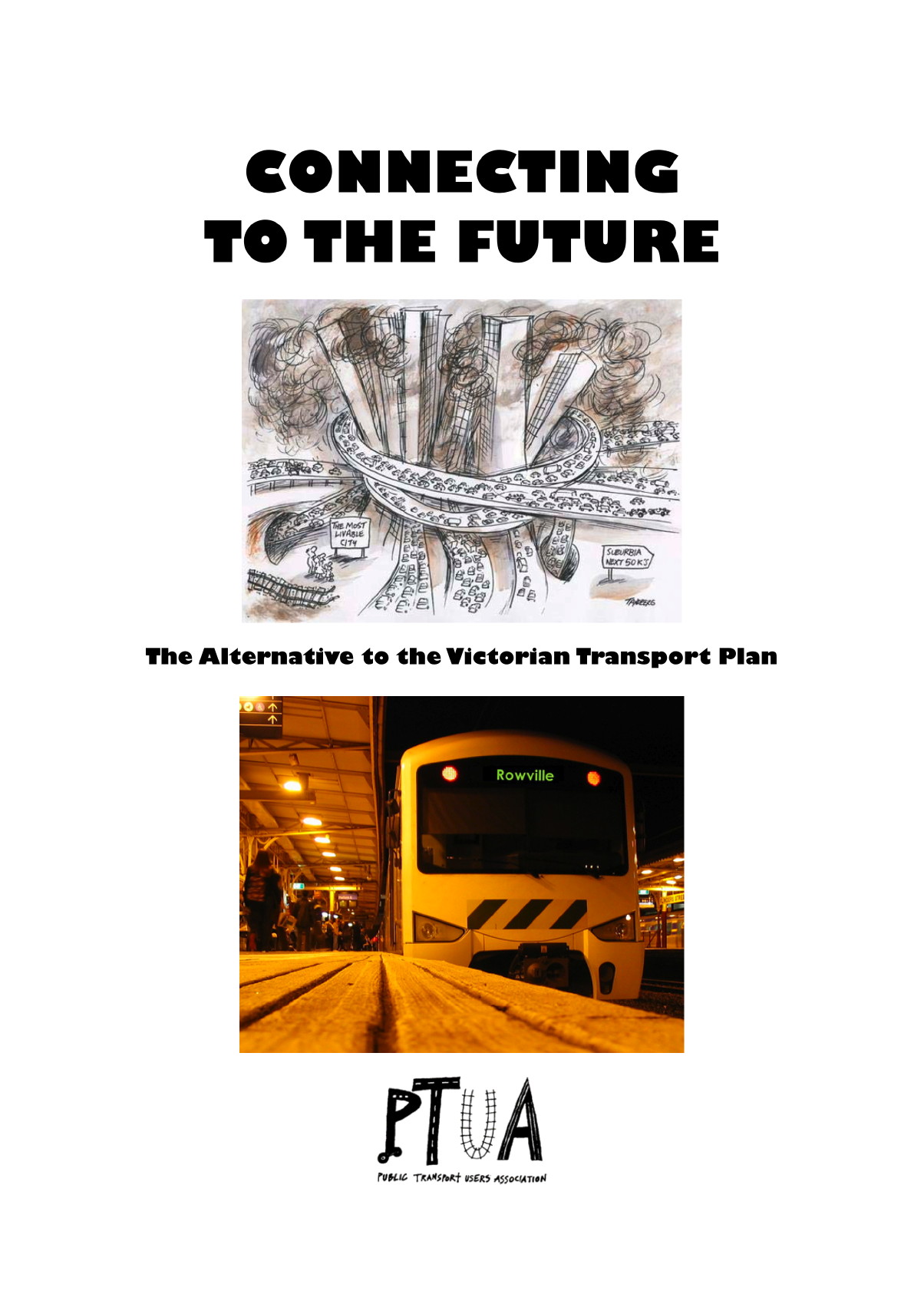 Melbourne's train services would double, buses would run every 10 minutes on every arterial road, and more country rail lines would be restored. And this would only cost 40% of the government's $38 billion transport plan, according to a new report released today by the PTUA.
The Connecting to the Future report is billed as the alternative to the Victorian Transport Plan. Its proposed package of improved public transport services and targeted road works includes rail extensions to Rowville, Doncaster, Mernda, Clyde, Mornington and the Airport, tram extensions, return of conductors to trams and staff to all stations, country train lines, level crossing removals, rural road and bridge repairs, and a massive boost to bus services.

The package is estimated to cost $16 billion, less than half the Victorian Transport Plan's $38 billion budget. Annual recurrent costs would remain the same as now.
Central to the plan is the replacement of the current franchising system with a new agency to coordinate trains, trams and buses. Public or private operators would become contractors to the agency, which would write the timetables, define routes and set fare levels.
"It doesn't sound much different to what we have now, but actually it makes all the difference," said PTUA President Daniel Bowen. "The managers in the Department of Transport don't really do transport planning – most are basically accountants monitoring contracts. This new agency would be more like Vicroads: very much a 'hands on' entity telling the operators exactly what services need to be provided and making sure the infrastructure's up to the task. Most importantly, the new agency would have new people with proven experience of running multimodal public transport in large cities."
Under the PTUA plan, peak-hour overcrowding on trains would be solved by overhauling the operation of the City Loop. "We say, let's run the loop the way its planners intended. Back in the 1970s they talked about having 200 trains an hour coming into Flinders Street. We've only got 98 an hour now, which is scarcely any better than before we built the loop," said Mr Bowen.
"And because our solution doesn't involve building an $8 billion tunnel, it can be up and running as fast as we can buy the trains, rather than in 10 years' time. That releases energy and funds to deal with the other 90 per cent of travel that isn't CBD or peak hour focussed, and which is almost completely ignored by the government."
The report also proposes involving the community in metropolitan planning for Melbourne, rather than the top-down approach being pursued by the Brumby Government. "Our model for this is Vancouver, where community-led planning has been a runaway success," Mr Bowen said. "They are the only city in Canada where the average travel time to work has declined, even while the population has grown rapidly. And they did that while increasing the share of people using public transport, and the share walking to work. They've ticked all the urban planning boxes, and the community has gone with that process every step along the way. Yet our Premier seems to want to dictate to the community on planning issues – it's bound to fail."
Mr Bowen predicted the coming year would be crucial to Victoria's transport future. "The Victorian Transport Plan isn't going to solve our problems," he said. "It can't, because it's just about reviving old 1960s road plans, and doing nothing meaningful about the alternatives to car dependence. Our alternative will cost the taxpayer half as much and give us what we're entitled to, which is one of the best transport systems in the world."