The Public Transport Users Association (PTUA) has called on the State Government to boost public transport services across the day as a response to the COVID-19 crisis.
A PTUA analysis of train timetables found that on some lines, services and capacity dropped by two-thirds outside peak hour.
PTUA spokesperson Daniel Bowen said that as people returned to work and students returned to schools and universities, social distancing was going to be critical, and that spreading peak demand was a key part of achieving this.
"It's clear that we can't return to the usual peak loads, with rampant overcrowding on trains, trams and buses", Mr Bowen said.
"We don't want a situation like Adelaide, where passengers are unable to maintain social distancing.[1]
"It makes sense to encourage staggered working hours, with people travelling at different times – but this won't help if public transport frequency and capacity is not boosted to enable it."
Analysis of Melbourne train timetables shows that capacity is cut by up to two-thirds outside peak hour.[2]
"This means that on some lines, off-peak trains can be as crowded as peak hour", said Mr Bowen.[3]
Mr Bowen said that while public transport infrastructure and fleets were stretched during peak hour, for most of the day there is spare capacity sitting idle.
In recent years, Perth and Sydney have boosted rail timetables to at least every 15 minutes all day [4].
In contrast most of Melbourne's stations have trains only every 20 minutes – unchanged for decades – despite normally strong overall travel demand throughout the day.[5]
Melbourne buses and outer-urban V/Line services are even less frequent, with 30-40 minute waits between services being common, making connections difficult.
"The public transport network is key to Melbourne's economic recovery from this crisis. But it must be run in a way that ensures passengers and staff are as safe as possible."
Mr Bowen said that some passengers were wary about returning to public transport.
"The increased cleaning on the system is very welcome, and should continue. The government should seek health advice on options such as deploying hand sanitiser dispensers at stations, and the effective use of masks.
"But fundamentally, capacity must be managed, and the key to this is encouraging staggered travel, which is only possible by providing sufficient services throughout the day", concluded Mr Bowen.
---
[1] ABC: Coronavirus concerns raised by Adelaide rail passengers after social distancing breaches revealed

[2] Comparisons of train timetables showed that the Sunbury, Craigieburn, Mernda and Hurstbridge lines service frequency and capacity drop by two-thirds (66.7%) outside peak hours.
The graph below shows trains per hour 8:00am-8:59am vs 10:00-10:59am at the "city cordon" (Richmond, Jolimont or North Melbourne). Percentage is the reduction to capacity outside peak.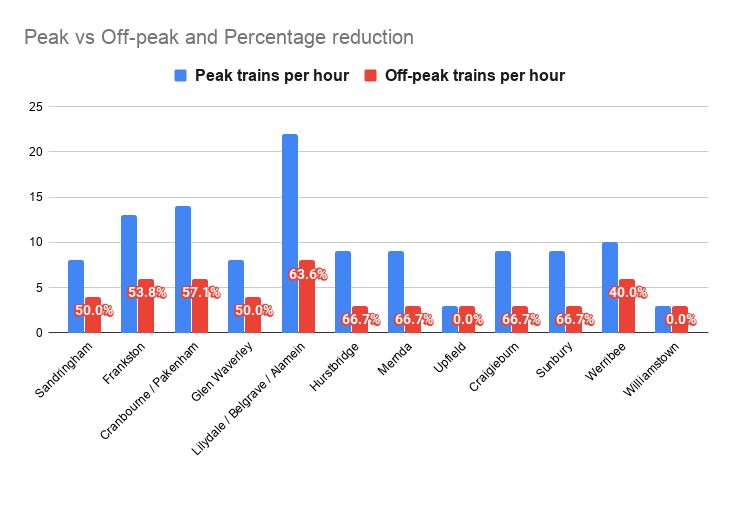 Notes:
Lilydale/Belgrave/Alamein measured as 10:30-11:29am to reflect the 8 trains per hour pattern that runs from 10:30am to 1pm. Frequency then drops further to 4 tph after 1pm.
Upfield and Williamstown see no capacity reduction outside peak because the peak and off-peak service is near-identical, with only 3 trains per hour
Network-wide, overall capacity (train services per hour) drops by 55.6% outside peak hour. Evening service capacity (8pm-8:59pm) is 70.9% lower than peak hour.
[3] PTUA: Midday trains crowded
[4] Sydney Trains since 2017 have had services every 15 minutes or better, all day until 11pm to 71% of stations. Sydney Morning Herald report.
[5] PTUA: Call for Govt to fund official PTV "every 10 minutes" train plan
---
See also:
Herald Sun: Public transport group urges for more off-peak services to help social distancing on trains