The Public Transport Users Association (PTUA) has called on the State Government to fund the official PTV rail network service plan, which included trains every 10 minutes on most Metro lines by 2016 [1].
PTUA spokesman Daniel Bowen said the upgrade would revolutionise train travel around Melbourne, by cutting waiting times and crowding outside peak hours, and making more trips viable by public transport, including those requiring a change of service.
"Studies show that waiting time for public transport is often perceived negatively [2], with passengers believing waiting time is longer than it actually is", said Mr Bowen. "This actively discourages people from using using infrequent public transport, especially for journeys requiring connections between services.
"Running trains every 10 minutes every day, just as we see already on a few lines, and just as we see in other cities of Melbourne's size around the world, will get people off the roads."
The PTV plan, written in 2012, proposed that by 2016 there would be the following service levels off-peak and on weekends:
6 trains per hour to Sunshine, Craigieburn, South Morang, Macleod, Ringwood, Glen Waverley, Sandringham, Newport (in addition to existing services to Frankston and Dandenong)
3 trains per hour off-peak to outer-suburban stations at Sunbury, Belgrave, Lilydale
Number of stations outside inner area[3] served by 10-minute frequencies
| | | | | |
| --- | --- | --- | --- | --- |
| Lines | Total stations | Current weekday off-peak | Current weekends | Proposed PTV plan 2016, 7-days |
| via North Melbourne | 56 | 7 | 1 | 26 |
| via Clifton Hill | 38 | 6 | 6 | 31 |
| via Burnley | 48 | 1 | 17 | 30 |
| via South Yarra | 57 | 36 | 36 | 46 |
| Total | 199 | 50 | 60 | 134 |
The number of stations on the network with all-week frequent services would rise from about a quarter to about two-thirds.
At many stations, this would mean the time between trains was halved.
Mr Bowen said that while some off-peak services were crowded and would be relieved by extra trains, the primary aim was to cut waiting times to get more people out of their cars.
"Weekend traffic is now as bad as weekdays. We know from Vicroads figures that there is almost as much travel demand in the middle of the day, and on weekends as there is at traditional peak commuting times", said Mr Bowen. [4]
"PTV's train plan isn't perfect, but implementing the 2012 recommendations would be a great step towards a frequent metro service around Melbourne.
"The current half-baked metro service we have now just don't cut it. Our city is growing fast, and we can't have is inaction until 2026 when the metro tunnel opens."
The PTUA also called for trams to be upgraded to run at least every 10 minutes until midnight, 7-days-a-week, for Smartbus services to run every 10-15 minutes on weekends, matching weekday frequencies (and in line PTV plans) and to expand the Smartbus system.
"Melbourne has a vast fleet of trains, trams and buses, much of which sits idle on weekends", said Mr Bowen. "We know that people want to travel. It's time the government funded extra services to cut waiting times, and make public transport a more viable option – not just in peak hour, but right through the week."
* * *
[1] PTV Network Development Plan, Metropolitan Rail. Full document, pages 32-33. www.ptv.vic.gov.au/about-ptv/ptv-data-and-reports/network-development-plan-metropolitan-rail
This PTV chart from page 33 of the document shows 6 trains-per-hour (eg every 10 minutes) by 2016 to most of the network.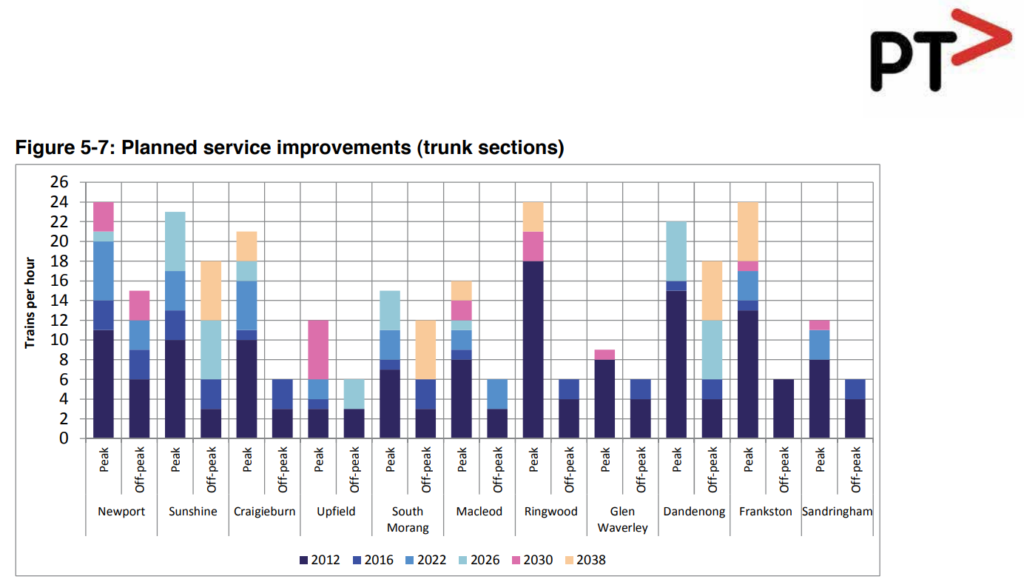 [2] Research paper: Perception of Waiting Time at Transit Stops and Stations
[3] Stations outside the CBD, Richmond, North Melbourne, South Yarra, which already have frequent services (6 or more trains per hour). Assumes weekday Werribee operating pattern would run 7-days
[4] Vicroads Online Traffic Monitor – shows that weekday inter-peak traffic and weekend traffic are almost as heavy as on weekdays during peak times.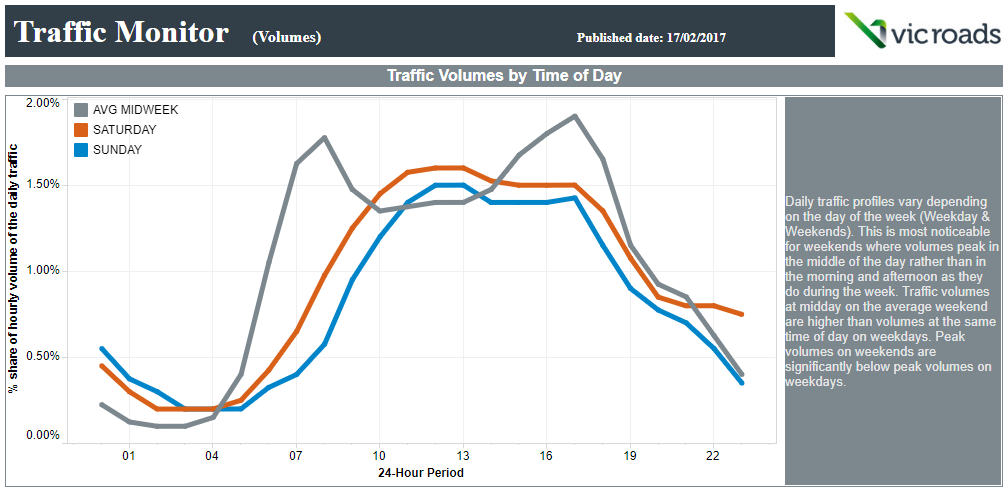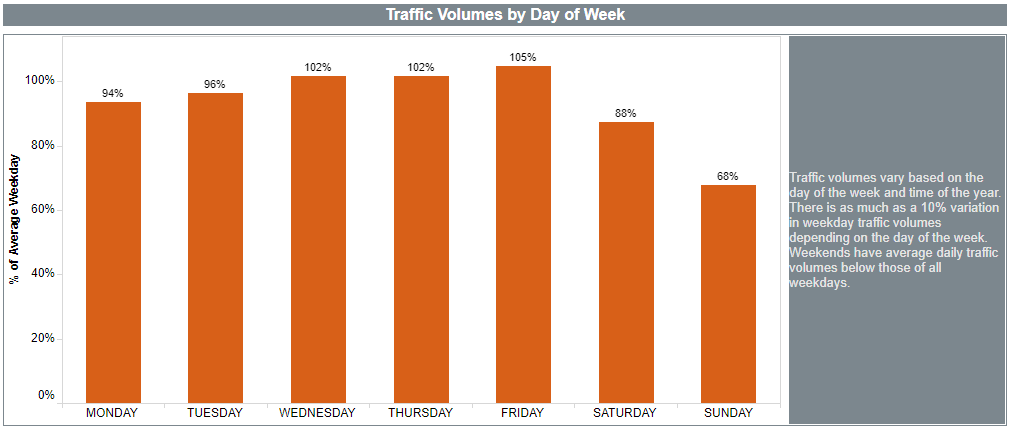 Media coverage of this story: