Victoria's new road safety strategy must offer alternatives to car travel if it is to succeed in slashing the road toll, the Public Transport Users Association (PTUA) said today.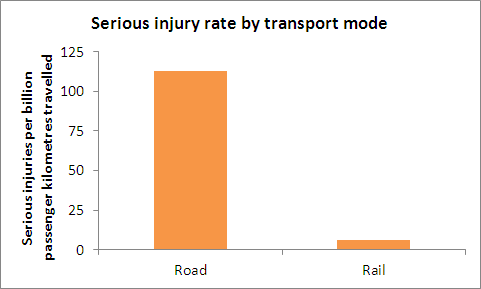 "You're over five times more likely to die in a car than on public transport, and over 10 times more likely to be seriously injured on the road than on a train," said PTUA President Tony Morton. "Getting people out of their cars and onto public transport saves lives, reduces life-long injuries and has numerous other benefits like cutting congestion, emissions and fuel bills."
Recent PTUA studies have shown public transport services must be improved significantly, particularly in outer suburbs, to offer a genuine alternative to driving [1]. "While government advertising implores people not to drive if they're tired or they've had a drink, government transport policy is offering many people few options," said Dr Morton. "In fact, multi-billion dollar road tunnels will encourage even more traffic and starve public transport of funding for decades."

The PTUA's submission to the Victorian road safety strategy said the foremost measures to deal with risk such as road trauma should be enabling mode shift to public transport and rail freight which have vastly superior safety records.
Dr Morton said measures should also ensure the safety of vulnerable road users, including tram passengers.
"It's time that there were cameras placed on trams to catch motorists who risk passengers' lives by failing to stop. We know other cities use cameras to catch vehicles using and blocking bus and tram lanes, but the risk passengers run daily of being hit makes for a compelling argument for cameras on trams", said Dr Morton.[2]
"Passengers say they regularly see motorists flouting the law, and in the past there have been injuries and even deaths from people being hit while boarding or alighting from trams."[3]
Other measures proposed in the submission include:
setting speed limits that minimise the likelihood of death or serious injuries to pedestrians;
ensuring local streets cater for an aging population and people with disabilities; and
standardising Victoria's broad gauge rail network to encourage more freight onto rail.
"Countries like Sweden and the Netherlands have road deaths per 100,000 people around half that of Australia due in no small part to genuine alternatives to driving and traffic laws that rank people above motor vehicles," said Dr Morton. "This is the direction Victoria's road safety strategy must take if the government is serious about saving lives and cutting the 'hidden' toll of serious injuries."
Full submission:
Step Onboard, Stay Alive – Response to Victorian Road Safety Strategy Directions Paper (October 2012) — PDF, 600 Kb
[1] Most of Melbourne's outer suburban areas rely on buses, which lag well behind trains and trams in providing frequent services.
http://www.ptua.org.au/2012/10/03/frequent-services-still-lag/
[2] Cameras have been previously trialled on Melbourne trams but have not been rolled out extensively.
[3] VicRoads says from 2006-2011, one person was killed and 77 seriously injured getting on and off trams in Melbourne.
'Careless drivers put Moreland tram riders at risk', Moreland Leader, 21 September 2012