Joint media release from: Action for Public Transport (NSW), Public Transport Users Association (Vic), People for Public Transport (SA), Sustainable Transport Coalition (WA), Community Action for Sustainable Transport (Qld), ACT Transit Group and Environment Tasmania.
Public transport users from around Australia have united to urge federal government funding for public transport, citing major economic, health and environmental benefits to be gained from improved alternatives to the car.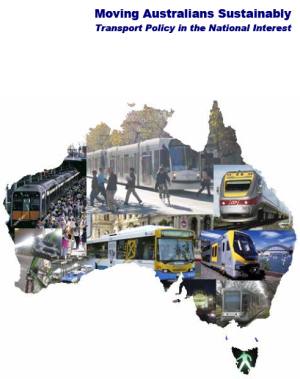 In a report prepared for public transport user groups around Australia, it was found that:
public transport makes a significant contribution to minimising congestion costs for business;
greater use of public transport would help to rein in Australia's ballooning oil import bill;
shifting journeys to walking, cycling and public transport would reduce Australia's rapidly rising road transport emissions; and
reduced car dependence would make Australians healthier, making them more productive in the workplace and cutting the burden on our health system.
The report, Moving Australians Sustainably, also found that national governments across the developed world make significant investments in public transport. Although the Australian government spends billions of dollars each year on local, urban, regional and interstate roads, it currently claims that public transport is the sole responsibility of state governments.
"Arbitrarily ruling out federal funding for public transport leads to cities that are dirtier, more congested, less healthy, less sustainable and more vulnerable to rising oil prices," said Public Transport Users Association (PTUA) President Daniel Bowen. "Quite simply it's bad public policy."
"As well as being economically wasteful in the present, Australia's imbalance in transport funding, will, if continued, lead to disaster in the future," said Margaret Dingle, Secretary of People for Public Transport (SA). "It is tragic that disproportionate amounts of money are being spent to prop up a car and road freight dominated transport system in a time of rising greenhouse emissions and a looming very serious shortage of oil."
"Southeast Queensland has all the major roads it needs," said Community Action for Sustainable Transport (CAST) spokesperson Tristan Peach. "What we desperately need is a public transport system that carries 30% of trips, rather than the current 10%. Instead of wasting money on polluting road projects, federal money should be invested in the heavy rail network, duplicating tracks, track extensions and buying more rolling stock."
"Mortgage belt families are being squeezed by rising oil prices," said Allan Miles, Secretary of Action for Public Transport (NSW). "Instead of entrenching this pain with a road-focussed transport policy, the government could provide real relief through the expansion of high quality public transport."
"With declining oil reserves and government's single-minded focus on car transport, Australia is becoming increasingly dependent on imported oil," said David Worth of the Sustainable Transport Coalition WA. "This is a serious economic risk that is not being prudently managed due to the lack of support for walking, cycling and public transport."
"Traffic congestion is increasing, leading to undesirable environmental and social consequences," said ACT Transit Group Co-Convenor Victor Isaacs. "The federal government can play a leading role in enabling an adequate standard of public transport for the citizens of our national capital and other cities."
"Making it more attractive for people to walk, cycle and use public transport instead of cars – would help to slash Australia's transport related greenhouse gas emissions," said Convenor of Environment Tasmania, Dr Phill Pullinger. "Substantial Federal investment in Australia's public transport system is an absolutely essential requirement if we are to be serious about tackling global warming."
The report will be released on 16 August 2007, and will be available online at: www.ptua.org.au/federal — or download directly now (PDF, 740Kb)