December 2019 marks the 50th anniversary of the 1969 Melbourne Transportation Plan [1]: a radical exercise that sought to reshape Melbourne at vast expense, from a 'garden city' with well-used public transport, to a car-dominated sprawling 'doughnut city' based on a Los Angeles-style grid of freeways.
PTUA spokesperson Daniel Bowen said that while other transport plans had been published by successive State Governments in the decades since, the 1969 plan continued to influence transport priorities and spending.
The plan proposed that 86% of funding be spent on roads, and just 14% on public transport, and planned a grid of freeways across the city – many of which have since been built. [2]
Mr Bowen said a rethink was needed to focus on transport modes that scaled up for a city of five million and growing.
"The 1969 plan was predicated on population projections of 3.7 million by 1985, and based on now long discredited thinking from US-based consultants that more motorways could solve traffic.
"This hasn't worked. Not in Melbourne nor in any other big city in the world.
"Melbourne is now at 5 million and still growing. We are beyond the size when roads and motorways are a viable way to move large numbers of people."
Since the 1969 plan was published, 320 kilometres of freeway or tollway had been built, with another 25 kilometres currently under construction.[3]
In contrast, the suburban rail network has been expanded by just 72 kilometres, with another 9 kilometres under construction. In addition to this, non-electrified outer urban lines to Healesville, Warburton and Mornington all closed.
Public transport patronage plummeted 28% between 1969 and 1979 as the plan was implemented, despite population growth.[4]
"The rapid growth of the road network is still following a 50 year old plan. Despite many billions spent continually extending and adding lanes to freeways and tollways, this has seen traffic speeds getting progressively slower [5].
"Building roads generates more traffic – and the road network gets less efficient the more people use it.
"While many of the roads proposed in the 1969 plan have eventuated, many of the rail projects have not – and nor have the proposed public transport service upgrades."
Rail projects in the 1969 plan that were never built include links to Doncaster and Rowville, an underground line through Fitzroy, and the extension of suburban electric services to Deer Park West, Mornington, Hastings, and Coldstream.
While the 1969 plan was heavily skewed towards roads and infrastructure, it also called for frequent public transport services:
trains to run at least every 5 minutes on the busiest lines in peak
buses and trams to run at least every 10 minutes all day
Most of these service upgrades have not eventuated.
"Cutting waiting times for trains, trams and buses is essential to get people out of their cars and onto public transport," said Mr Bowen.
"Ultimately, if we want people to be able to switch to public transport, government must provide reliable, high frequency train, tram and bus services.
"If instead we keep spending on roads, people will keep driving, congestion will keep getting worse, and just as the 1969 plan envisaged, Melbourne will become more and more like Los Angeles – dominated by its traffic."
---
[1] The 1969 plan was released on 17th December 1969. Age article
[2] Costings, also covered in The Age
[3] Freeways and tollways (excluding those built before 1969):
CityLink – Monash Freeway – Princes Freeway – West Gate Freeway 88 km
Citylink – Tullamarine Freeway 12
Eastern Freeway – EastLink – Frankston Freeway 62
Mornington Peninsula Freeway 26
Pensinula Link 25
Metropolitan Ring Road – Western Ring Road 38
South Gippsland Freeway – Western Port Highway 5
Western Port Highway 11
Hume Freeway (Craigieburn Bypass) 17
Western Freeway (Deer Park Bypass) 9
Calder Freeway 27
Total built since 1969: 320 km
Under construction:
North East Link 11
West Gate Tunnel 5
Mordialloc Freeway 9
Heavy rail lines built or electrified since 1969:
City Loop 4.7 km
Newport to Werribee 19
Altona to Laverton 4.1
Dandenong to Cranbourne 12.6
Broadmeadows to Craigieburn electrification 9.4
Epping to South Morang 3.1
St Albans to Sunbury electrification 20.5
South Morang to Mernda 7.1
Closed: St Kilda line (4.5km) and Port Melbourne line (4km).
Net increase since 1969: 72km
Under construction:
Metro tunnel 9
(Suburban Rail Loop has not received full funding/started construction yet)
[4] Public transport patronage dropped by 28% in the ten years following the 1969 transport plan, despite population growth
Source: PTV – Melbourne public transport patronage long run series
[5] Road speeds have steadily dropped in recent years, despite freeway/tollway expansion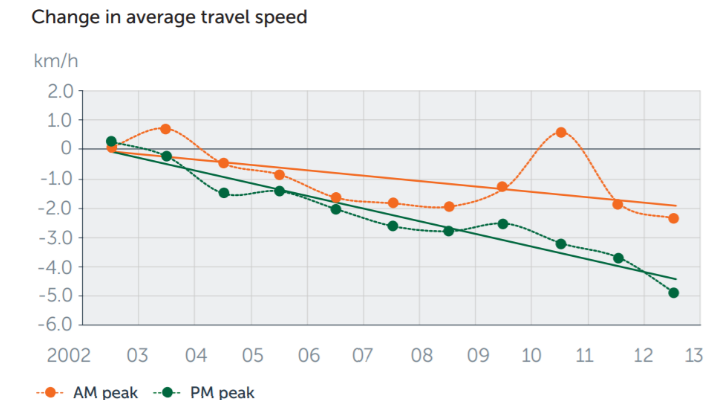 Source: Vicroads Traffic Monitor
---
Coverage of this story:
The Age 23/12/2019: Half-century-old plan behind major transport projects, advocates warn
7 News 23/12/2019: