Cost and benefit figures presented in the North East Link business case by the Victorian Government suggest a "massive shifting of the goalposts" in an effort to make the $16 billion project stack up, according to a preliminary analysis by the Public Transport Users Association.
"Comparing these new figures with those presented just 18 months ago by the government's Infrastructure Victoria agency, you would hardly guess we're talking about the same project," said PTUA President Dr Tony Morton.
In late 2016, Infrastructure Victoria produced economic analysis for its 30 Year Strategy which assessed the "real capital cost" of the North East Link as $5 billion to $7 billion, including associated works on the Eastern Freeway and M80 Ring Road.
"That figure's now fantastically out of date," Dr Morton said. "Using the actual cost estimate of $15.8 billion and the benefit figure from Infrastructure Victoria, the benefit-cost ratio is barely 60 cents in the dollar."
Yet the latest business case puts the ratio as $1.30 to $1.40 in the dollar, having arrived at this figure through what Dr Morton calls 'creative' methods.
"First, they've said only about $12.5 billion of the cost is for construction, the rest is for operating cost," Dr Morton said. "Then they've claimed the whole cost can be reduced to around $8 billion through the device of 'discounting' future spending at 7% per year. It's only by using this discounted value that they can get a BCR above 1."
Discounting is a standard method to account for the fact that spending deferred to the future, or income received in the future, has a lower value in present-day terms. "If I have to spend $1000 but not for 12 months' time, I can invest a smaller amount now, say $955 with a 5% return, to have the full $1000 when needed," Dr Morton said.
"But you have to push spending a long way into the future to get this claimed reduction of nearly 50 per cent. It appears to us the government is using some financial magic to avoid booking a big part of the road's cost until after it's supposed to be open and operating – and paying no interest in the meantime."
"The business case includes a cash flow profile for capital and operating expenditure, yet adding up the latter it comes to less than half the reported real operating cost. What accounts for the remainder – is it additional operating cost, or is it construction cost that's being pushed out to the long term somehow?"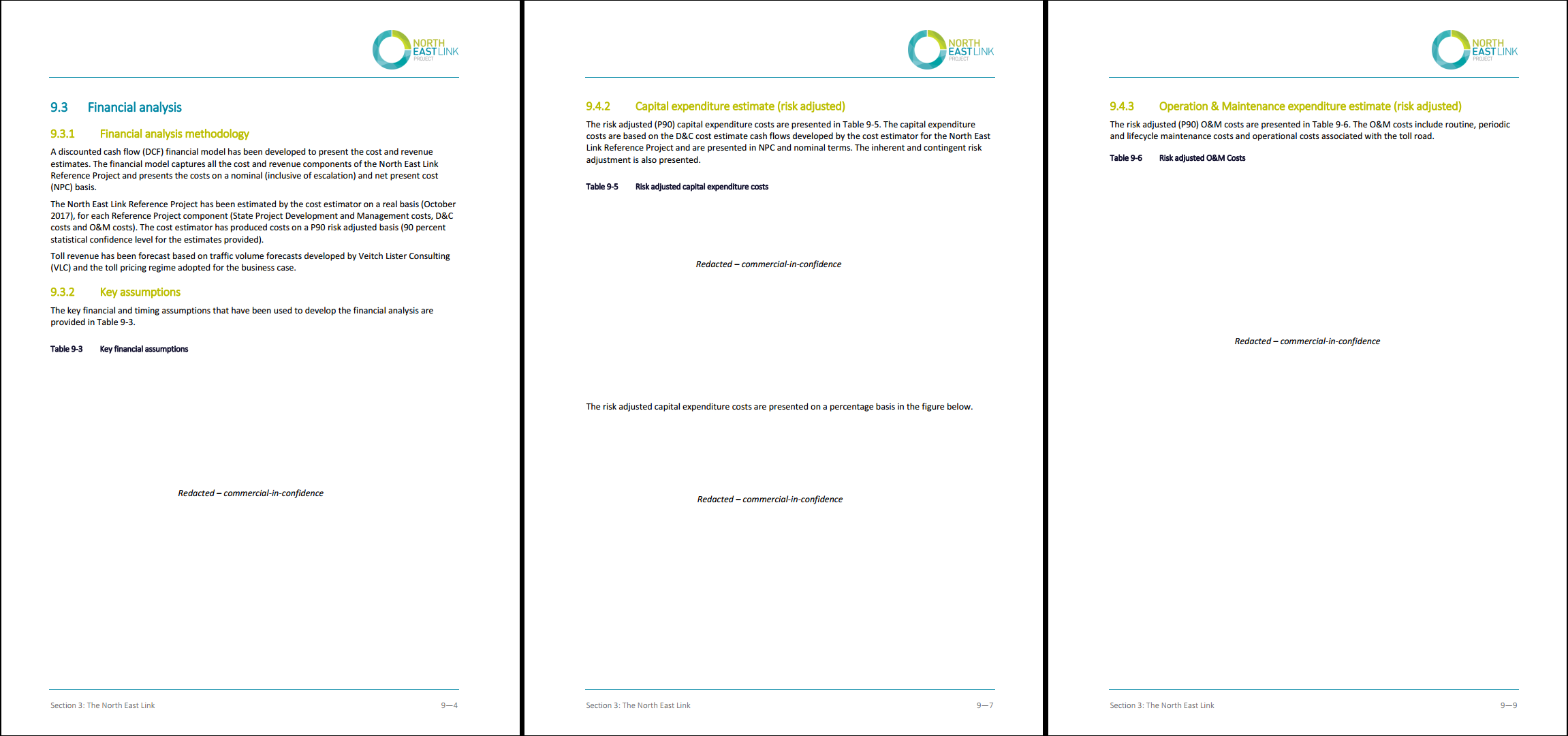 "Too many details are redacted to be sure, but it looks suspiciously like the equivalent of buying a $600,000 house and pretending it only costs you $400,000 because the mortgage payments come later. This is dangerous logic for homebuyers, and at the very least we're owed a better explanation when it's all Victorians on the hook as taxpayers."
"And as a method for reducing the economic cost of a public infrastructure project for evaluation purposes, it doesn't pass the sniff test. The Metro Tunnel project has a longer construction timeline than the North East Link, and in its business case the reduction from discounting is a more realistic 24 per cent."
Phantom benefits
The benefits claimed for the road come mainly from projected travel time savings, and are said to be worth nearly $11 billion in present-value terms. Yet evidence from half a century of road building indicates that any travel time benefits are short-lived and soon give way to worse congestion than before.
"This looks like the same fantasy-land thinking we've seen on every other road project," said Dr Morton. "In that regard the East West Link assessment may have been more honest – at least that conceded the congestion benefits would be gone within a decade. This one seems to be claiming time savings will still be achieved 50 years into the future, something never seen before on planet Earth."
Past road projects in Victoria have been unable to demonstrate the time-saving and other benefits claimed for them, according to reports by the Victorian Auditor-General and by academic researchers. A 2009 study of the Melbourne CityLink project by RMIT's John Odgers found that contrary to the time savings forecast, the total time spent in Melbourne traffic in 2005, five years after CityLink opened, was already exceeding by 1.8% the figure projected for 2011 in the 'do nothing' scenario. The approach used to forecast the travel time benefits for projects including the North East Link has been criticised by modelling expert William McDougall in evidence to a 2017 Senate inquiry into tollroads.
"And yet, contrary to all we know from the past half century about new roads not reducing congestion, we've still got official documents like this one making all sorts of claims about time savings, congestion relief and faster travel, as though it's forever 1970 and no-one knows any better," Dr Morton said. "Almost nowhere else is there such a boneheaded insistence on doing the same thing over and over and expecting different results."
Choices for the future
The PTUA is supporting a community campaign for further investment in rail infrastructure and frequent bus networks, to give people choices to avoid traffic congestion. "The government's trying to greenwash this road with a new busway along the Eastern Freeway, to save all of two minutes between Bulleen and Clifton Hill. The business case calls it a 30% saving, which is misleading because it's a percentage of the 6 to 7 minute travel time on the freeway, a very small part of the whole. Virtually all the serious delay to buses is between Clifton Hill and the city, and further out on suburban arterial roads," Dr Morton said.
"We'd actually rather see the freeway median preserved for future rail services, and instead invest some serious money into priority for buses where they run slowest, and put some fair dinkum planning effort into a Doncaster rail line. That's a recipe for real time savings with more ironclad evidence than any traffic model."
"Meanwhile, every billion dollars the government spends on big roads just makes Melbourne look more like Los Angeles, and gets us closer to having Los Angeles style traffic. Should we really be spending $16 billion for this?"