The Public Transport Users Association says that detailed design plans for the North East Link and its accompanying busway include taking over the median reserve for additional car lanes. This will 'kill stone dead' any long term plan for trains to run to Doncaster, according to the PTUA.
"What's being proposed is a radical reorganisation of the road corridor between Clifton Hill and Bulleen," said PTUA President Dr Tony Morton. "The wide median which has been set aside for a train line since the 1970s will be deleted and used for car lanes. This provides space for the bus lanes they want to put on the outside of the road – but the outside will never be suitable for rail due to conflict with entrance and exit ramps."
The plan to remove the median appears in the map book accompanying the North East Link Detail Design. It adds to previously announced plans for a 16-lane road monster between Bulleen and Doncaster, resembling the superhighways seen in some US cities like Los Angeles or Houston.
Dr Morton said the plan to kill Doncaster rail not only ran contrary to the public's clearly expressed preference – it also promised nightmarish consequences for the Doncaster region in the long term. "Rail is ultimately the only game in town when it comes to moving large numbers of people around a big city effectively," he said. "Even the proposed buses won't be future-proof, and will in time become slow and crowded just like the busway services in Brisbane today. Premier Andrews and his Roads Minister are essentially foreclosing the most space-efficient mode of transport for the least space-efficient. That's not merely short-sighted, it's bordering on spite for the people of Manningham who spent years campaigning for a train."
The PTUA hears daily from bus users in the north east who suffer overcrowded, late, cancelled and defective services, Dr Morton said. "The Department of Transport signed a supposedly 'innovative' contract with private operator Transdev, which it appears leaves it powerless to enforce basic service standards on behalf of passengers. I can confidently say no-one who uses these buses today has any confidence in government assurances that buses can do the work of trains in 30 years' time when Melbourne is the size of London or Paris."
Instead, Dr Morton said, residents of Manningham and other suburbs were being sentenced to a congested Los Angeles future. "So the state spends $16 billion to build this 16 lane monster, and it fills up with 16 lanes of single-occupant car traffic. What do our amazing planners do then? The Americans have freeways 24 lanes wide and they're still clogged. Freight can't go anywhere because it's stuck with all the cars. You don't solve anyone's transport problems – passengers or freight – until you give people real choices. And ultimately, in a city the size of Melbourne, that means rail."
The PTUA has called on the government to publish the multimodal transport plan for Victoria required by its own legislation. "Let's have it out in the open whether our government is softening us up to turn Melbourne into LA, when the long-expressed community view is we should be more like Vancouver or Vienna, with a strong role for public and active transport, especially rail, even though a lot of people will still drive cars."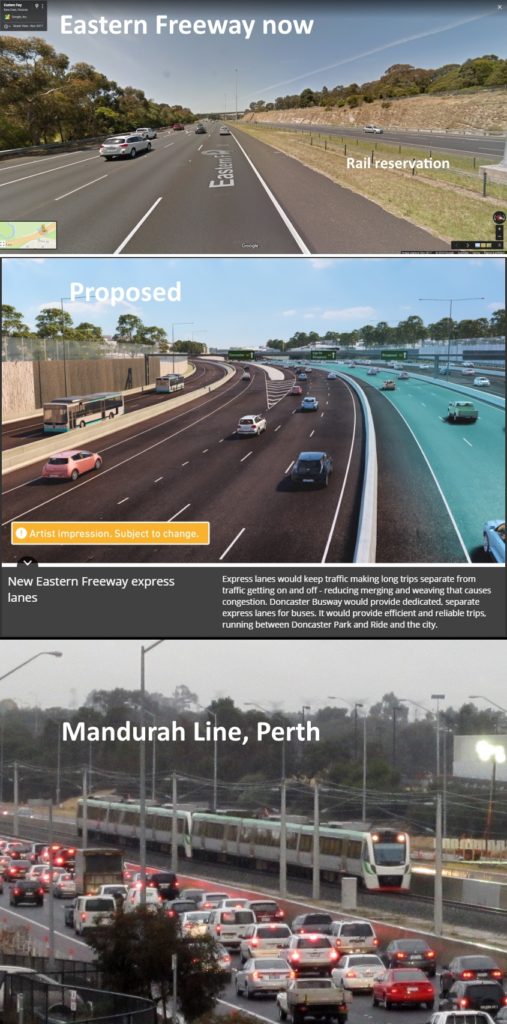 See also: The Age: Toll road to kill off future Doncaster rail: public transport group