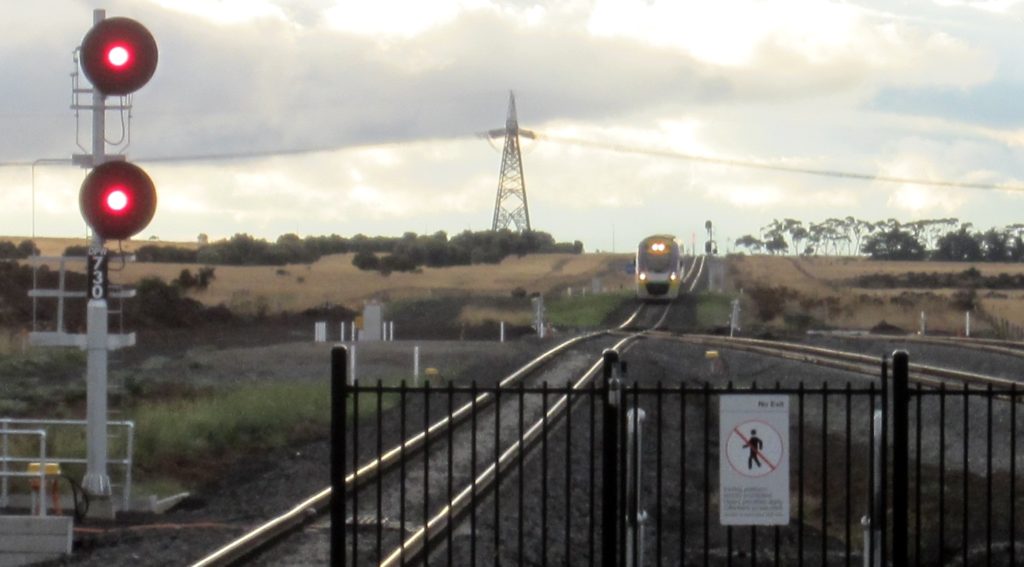 The Public Transport Users Association (PTUA) has today criticised the state government's piecemeal approach to track duplication works near Bacchus Marsh.
The Melbourne Metro Authority, which is delivering the Ballarat Line Upgrade (BLU) project, announced changes to the project in December 2017, including changing the location of one of the crossing loops. The project originally included 3km of duplication works at Warrenheip, but this was changed to 3km of duplication west of Bacchus Marsh.
The rationale given for this change was that it meant less tree removal and excavation, and that it allowed trains to more quickly move in and out of the stabling facilities that are also planned as part of the BLU project.
However, indicative maps released as part of public consultation show that this duplication will end approximately 1km short of the Rowsley Loop, which was constructed in 2016 – meaning the line will go from double-track to single-track and back again in a very short distance.
"Shifting the duplication from Warrenheip to Bacchus Marsh, to allow trains to move to and from stabling without causing disruption to revenue services, was a sensible move. But it would be much more sensible if they would just extend the track a little bit further to join up these loops" PTUA Ballarat Branch Convener Ben Lever said.
"It seems ridiculous that these duplication works will get within sight of the existing Rowsley Loop, but won't actually join up with it."
"This introduces a new bottleneck to the rail network, which will make V/Line's operations much more complicated than if they just connected the two up. Having these little low-quality bottlenecks limits the usefulness of the high-quality infrastructure being built further up the line."
Mr Lever also raised concerns that having two separate loops so close together would be an inefficient use of taxpayer funds.
"With these track duplication projects, among the most expensive parts are the points and the signals at either end of the loop – the flat, normal track in between is comparatively much cheaper. Because there are such big fixed costs, no matter how long the loop is, a 2km loop isn't twice as expensive as a 1km loop – and in the case of this project, a 4km loop would not be 33% more expensive than a 3km loop. Once you've committed to paying the fixed costs, it's much more efficient to have a slightly longer loop."
"The 1km section planned to be left as single track is quite flat and smooth, and should not require expensive earthworks like other sections of track might. This really seems like low-hanging fruit, so why isn't the government picking it?"
"Even more inefficient – the BLU project is just the first step in duplicating the whole Ballarat line. We all know we need the line to be fully duplicated from Ballarat to Melbourne as soon as possible, so eventually all these little crossing loops will be joined up into a continuous double-track railway. It would be incredibly wasteful if the government had to rip up these points in order to join the two loops in just a few short years."
"The government should extend the duplication a little further to the Rowsley Loop, do the job once and do it right – it will give passengers the best outcome, and save a lot of money in the long run."