The Public Transport Users Association has joined with Friends of the Earth and community and environment groups across Melbourne to launch the "People's Transport Vision" as State Parliament opens for 2018.
PTUA President Dr Tony Morton said the Sustainable Cities campaign had been launched in response to "widespread concern over another unfolding crisis in Victoria's strategic transport planning".
"When this government was elected in 2014 they got on with what they promised: the dud East West Link was cancelled, they got on with level crossing removal and the Metro tunnel. For a while it looked like we were actually going to do something about our city-choking traffic problems. Problems we owe to 50 years of reckless spending on compulsory car travel and wholesale neglect of sustainable alternatives," Dr Morton said.
"Why then would the same government turn around and make the exact same mistake the Coalition did? Waste billions on a big inner-city road with a jerry-rigged benefit-cost analysis, no election mandate, no enabling legislation, no planning approval and a chorus of expert advice telling them not to do it, not to mention widespread community outrage?"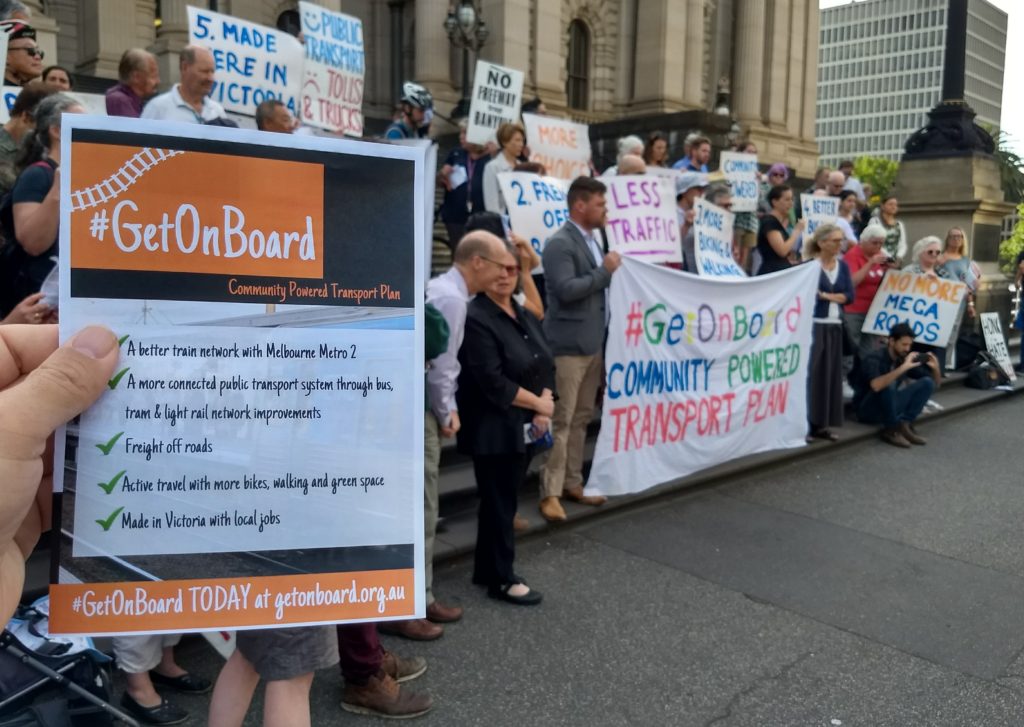 The West Gate Tunnel is set to cost Victorians $6 billion directly, and more in road tolls if the 10-year extension to Transurban's toll concession passes the Parliament. The Andrews Government bills it as a project to solve the Yarraville truck nightmare – yet so would the West Gate Distributor, the project Labor actually took to the 2014 election. This would have provided a new dedicated route between the West Gate, Hyde Street and Shepherd Bridge, targeting the specific truck access problem, and at one-tenth the cost.
In 2017, long-time transport consultant William McDougall gave evidence to a Senate inquiry into toll roads. In his experience, he stated, assessment processes for roads are "biased towards producing bullish forecasts and optimistic economic and financial projections." It lent further support to a 2007 exercise by John Odgers of RMIT, who found that even the celebrated CityLink tollroad had never actually delivered the travel time savings claimed for it. The result when considering Melbourne's road system as a whole was actually a 'dis-saving' relative to doing nothing, Mr Odgers found.
"This is a systematic failure of planning processes that are supposed to work for the benefit of Victorians," Dr Morton said, "and it doesn't stop with the East West Link or West Gate Tunnel. Look at the North East Link, where the road lobby seems to have got away with a classic bait-and-switch. First, get your independent assessor to publicise a nice high benefit-cost ratio by letting them assume the worst-case project cost is $7 billion. Then tell people the actual cost is $16 billion but forget about recalculating the BCR."
"So this is why we're standing on the Parliament steps this morning, with other community groups, transport experts, academics and industry figures, demanding that Victorians get a better deal," said Dr Morton. "Transport planning seems even more at odds with the public interest than ever. Yet we're here because ultimately it's within the power of our politicians to fix it."
The People's Transport Vision is the Melbourne community's response to the crisis. "We like to think it's taking up again what was promised back with the 2001 Metropolitan Strategy – the last time the community was actually invited to participate in depth in developing a plan for Melbourne or Victoria."
For the new plan, Victorians were asked to nominate transport options that should be on the agenda as an alternative to toll roads. "Some of these would be familiar from 2001: more freight on rail, extending the train network, restoring service to regional Victoria, more trams and suburban buses, and fixing country roads," said Dr Morton. "Others are new and reflect the way our city continues to grow. Chief among these is Melbourne Metro 2, a rail river crossing that will actually deliver into the future. Along with Metro 1 it'll really even up the imbalance in sustainable transport options between the east and west of Melbourne."
"But this is more than just a wish list," Dr Morton said. "This is also intended to fulfil the mandate the government has, under its own legislation, to put in place a long-term strategic transport plan. One that has real, not phoney, benefits, delivers on the government's environmental and social goals, and brings the community along with it."
* * *
More information: