Support Juries with More Time and Resources, urges PTUA
The Public Transport Users Association has welcomed the release of reports by Infrastructure Victoria's first metropolitan and regional citizen juries. After six days of deliberations, the juries have strongly endorsed public transport service expansion, and active transport initiatives, as a priority over new roads.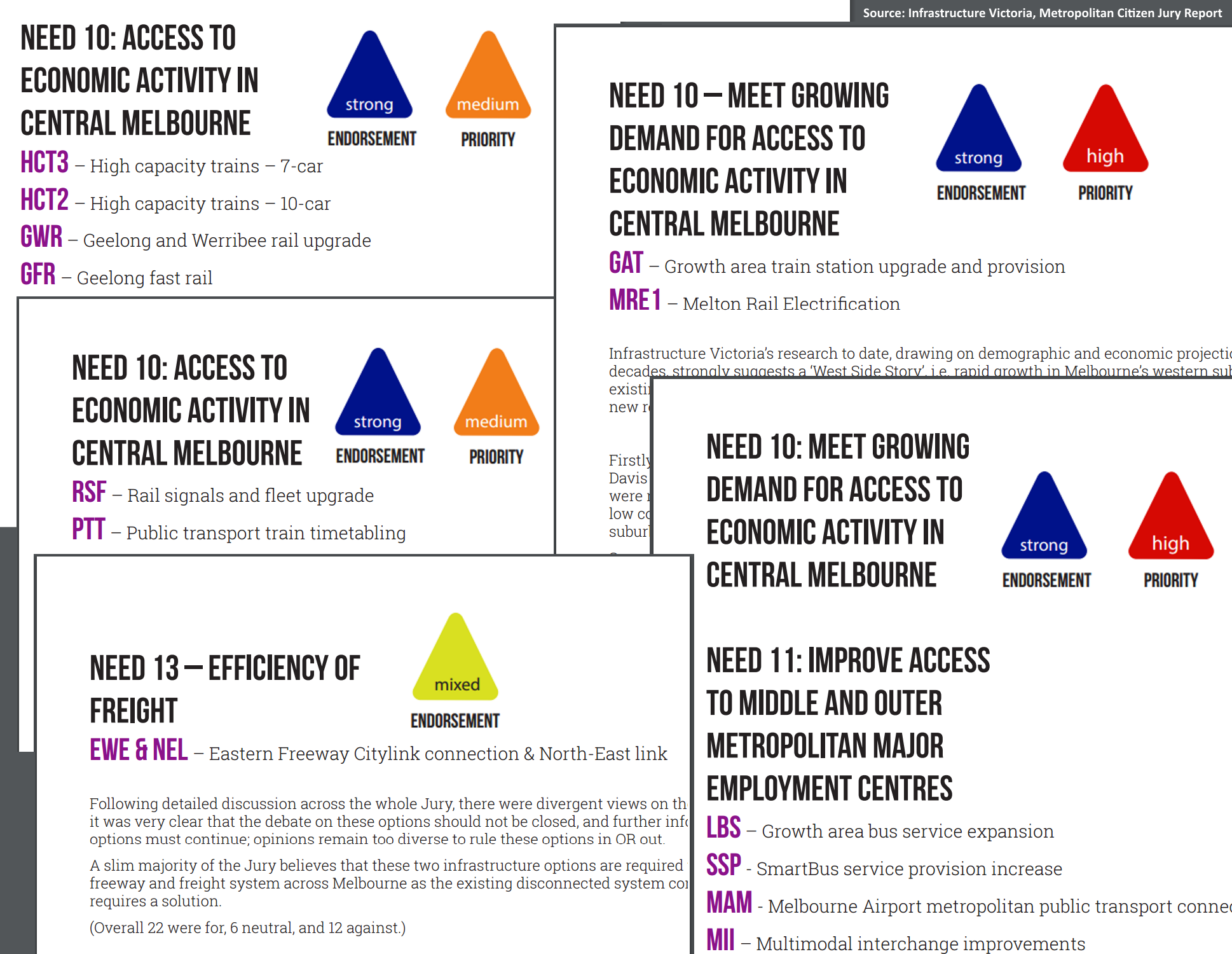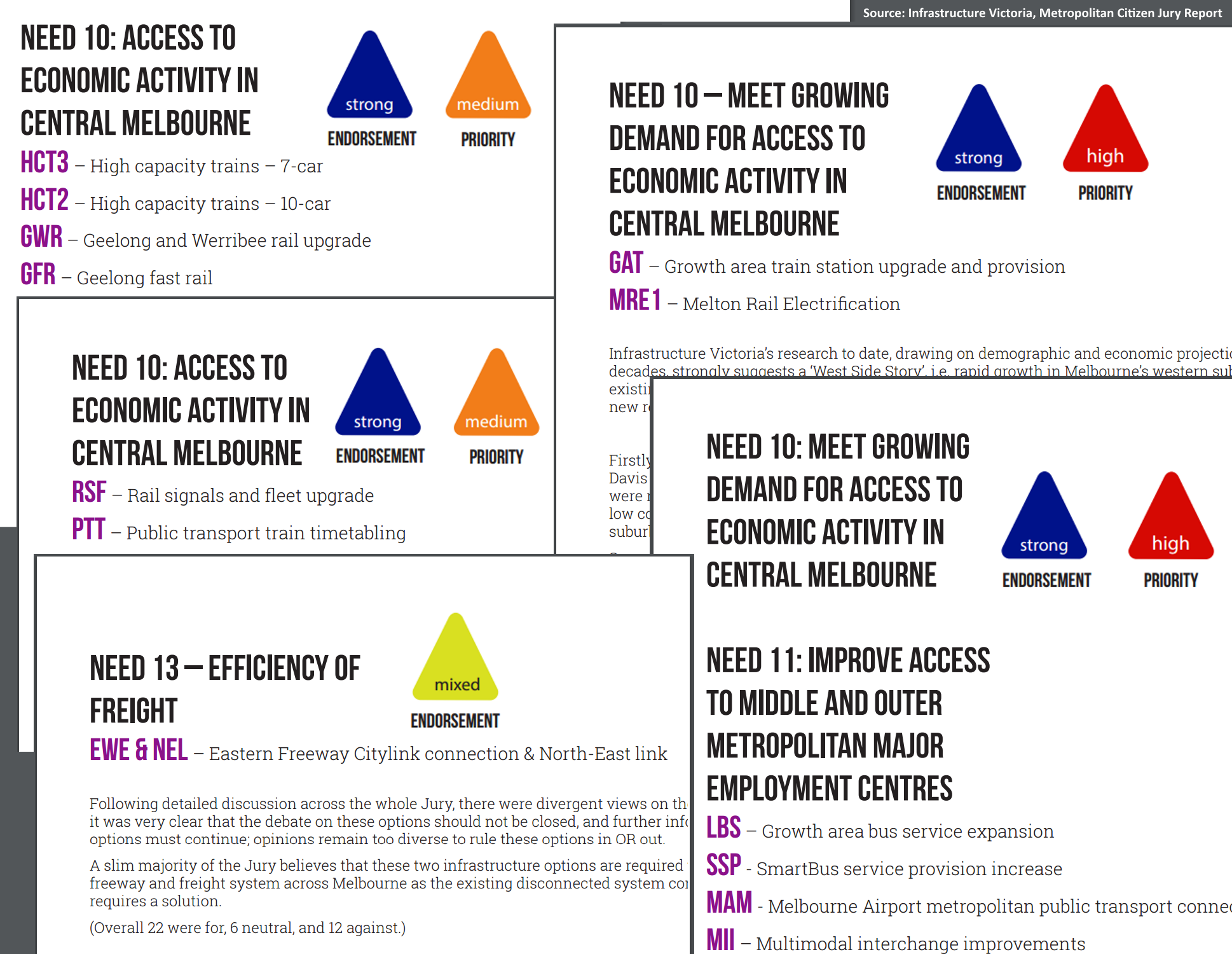 But the PTUA says the juries' admission that there was insufficient time to consider all options in appropriate depth – or to call a wider range of expert witnesses – highlights the need for juries to be given more time and access to resources, including subject-matter experts both within and outside Australia.
"It's a valuable exercise that recalls the last major initiative of this nature, back in 2001," said PTUA President Dr Tony Morton. "The Bracks Government's Metropolitan Strategy ran workshops all over the suburbs, and the single biggest priority that emerged was the need for better public transport. The citizen juries have renewed that call in today's reports."
Transport initiatives receiving strong endorsement from the juries include:
High capacity trains and signalling to boost rail network capacity.
Rail gauge standardisation across the regional network.
Upgraded passenger rail services in regional Victoria.
Faster trains to Geelong and improvements to the Werribee corridor, including Altona loop duplication.
Electrification of the Melton line and further development of the Tarneit corridor.
New railway stations in growth areas.
Expanded suburban bus frequencies and operating hours, and improved network connections.
Improved bus services into Melbourne Airport with connections to suburban network.
Extension of tram route 48 to Doncaster Hill.
Tram network extensions in Fishermans Bend and the inner west.
A network of 'bicycle highways' in the inner city.
Transit-oriented developments at existing suburban activity centres on the rail network.
Improved accessibility on public transport.
A best-practice centre for active transport infrastructure design.
Review of road rules and traffic management to support walking and cycling.
Despite reports to the contrary, the juries were divided on the need for new urban motorways and did not give a verdict on the cancelled East West Link, or the North East Link through the Yarra Valley green wedge.
"The institutionalised road lobby in Victoria continues to push these roads, hoping to convince people they're needed for freight," Dr Morton said. "But we already have a massive motorway network supposedly built with freight in mind. The problem isn't how much road we've got, it's that the roads are all full of single-occupant cars. Build more roads and you just reproduce the same problem elsewhere."
"At least a third of jury members were outright opposed to new motorways," said Dr Morton. "And the evidence backs them up: new roads don't bust congestion and they don't speed up freight. Your average motorist would like nothing better than to have the traffic levels we had in the 1990s, before we doubled the size of the motorway network with funds and effort diverted from public transport."
The lack of agreement on road-building and on other initiatives – including rail extensions to Doncaster, Rowville and Melbourne Airport – highlight the one thing lacking in the process to date, according to the PTUA. "Deliberative panels need time, and access to expertise from best-practice cities and regions," Dr Morton said.
"In a number of places, the jurors emphasise the lack of opportunity to consider options in detail or to exhaustively research the pros and cons. And it's a fair call. Where citizen juries have been used elsewhere – with positive results – the process is given months to work, and involves many more people both as jurors and as witnesses. It's early days yet, and so far it appears jurors haven't been able to speak to many experts outside the Victorian Government itself."
The PTUA expects that Infrastructure Victoria's public deliberation process, including citizen juries, will build on its promising start and be provided with greater resources, to steadily shed more light on more contentious transport issues.
Dr Morton said the need for change was palpable. "It may be 2016, but we're still living with this old Victorian transport industry groupthink that's been leading us astray for half a century," he said. "It holds us back by telling us rail costs too much, that the next new road will fix the congestion caused by all the others, that it's cheaper to run services passengers won't use, and that a city spread over the area of London can't help but grind to a halt with less than half London's population. And it goes on. Meanwhile the world outside Australia just gets on with things."
"It's great to be running these deliberative processes with the community, to move us away from those dumb old ideas. But it needs to be given time to work: otherwise we just go round in circles for want of better advice," said Dr Morton.