The majority of the world's busiest airports have mass transit connections, and the number is increasing every year.
A Public Transport Users Assocation (PTUA) study of airports around the world to be released at a forum on Friday found that by 2021, 83 of the world's busiest 100 airports will have rail services. Of the top 50 airports, all but 6 will have rail.[1]
At present 64 of the top 100 airports have rail connections, with the most recent being those in Toronto and Helsinki, both opened in June 2015. Another 6 have dedicated shuttle buses connecting to nearby rail lines; and a further 17 have rail connections currently under construction.
Just 17 of the world's busiest 100 airports have no rail connection – including Melbourne airport – though some of these have rail under consideration.
Among the world's top 100 airports, rail connections have opened at the rate of about two each year since 1990.
PTUA spokesperson Daniel Bowen said that it was clear that governments around the world recognised that rail was the most efficient way to serve the world's biggest airports.
"Melbourne is the world's 50th busiest airport.[2]
"Only mass transit can ensure that large numbers of people – both passengers and workers – can reach the airport quickly and efficiently.[3]
"This is not about city-envy, it's about how to best serve one of the busiest airports in the world."
While the state Coalition pledged construction of an airport rail link going into the 2014 state election, full funding wasn't provided. Labor has prioritised the metro rail tunnel instead.
"PTV has said that the metro rail tunnel is required to add capacity before building the airport line. The tunnel project has started, so it's time to get planning for the airport line underway as well, so that we don't wait another generation for it to happen.
"Melbourne Airport is going to keep growing – it's time to get moving on providing a mass transit heavy rail connection."
Mr Bowen warned that unless the airport line's fares were affordable and services frequent, public transport would remain a minority mode.[4]
"High quality public transport can provide relief from the airport's astronomical parking prices, but we must learn from the problems of Brisbane and Sydney's airport rail links: fares must be affordable and cost-competitive."
Mr Bowen called for the state government to get behind the airport rail link.
"The current Skybus service provides frequent services, but it's being pushed to the limit by growing patronage. It's overcrowded and gets stuck in traffic. It's high time our world city had trains to its major airport."
* * *
The world airports study will be presented at a PTUA event on Friday 30th October. Details and RSVP on Facebook.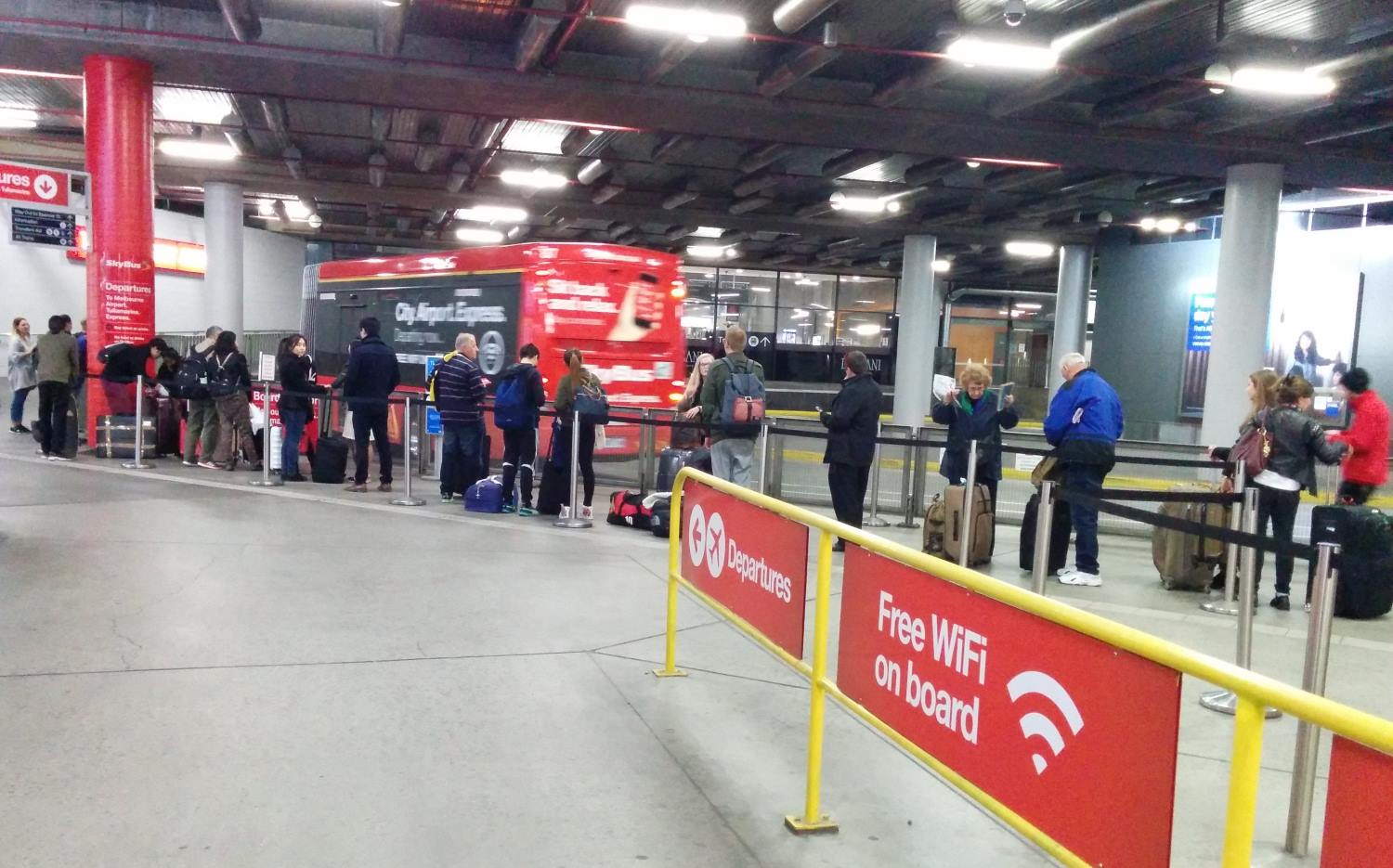 * * *
[1] Full report to be published after Friday's event.
[2] Three Australian airports are in the top 100 for passenger numbers: Sydney (ranked 31, with 36 million passengers in 2011), Melbourne (ranked 50, with 28 million passengers) and Brisbane (ranked 69, with 20 million passengers). Sydney and Brisbane both have rail services to the terminals.
Perth has also commenced work on an airport rail link, due for completion in 2020. (Source)
[3] Apart from passengers, around 12,500 workers travel to the airport each day. (Source)
[4] Figures from 2010 indicate that 86% of passengers arrive by car, taxi or limousine. (Source)
Note: Contrary to popular opinion, the Citylink contracts do not prevent construction of a heavy passenger rail link to the airport. See: Myth: We can't have airport trains because the Citylink contract forbids it