The Public Transport Users Association has delivered its verdict on party policies going into the state election.
While the PTUA recommended the Coalition over Labor in the 2010 election, PTUA President Tony Morton said they could not do so this time, because the unwanted, unmandated East West Link was a spectre hanging over the Coalition's policies and budget.
"No matter how much the government denies it, the East West Link will be a drag on transport budgets for the next quarter century. Stage one alone will cost well over fifteen billion dollars in up-front costs and availability payments. And it will entrench car dependence in Melbourne, most likely reversing the recent reductions in driving per capita.[1]
"East West Link is a betrayal of the Victorian people, who elected the Coalition in 2010 on the back of fixing public transport, not building more roads."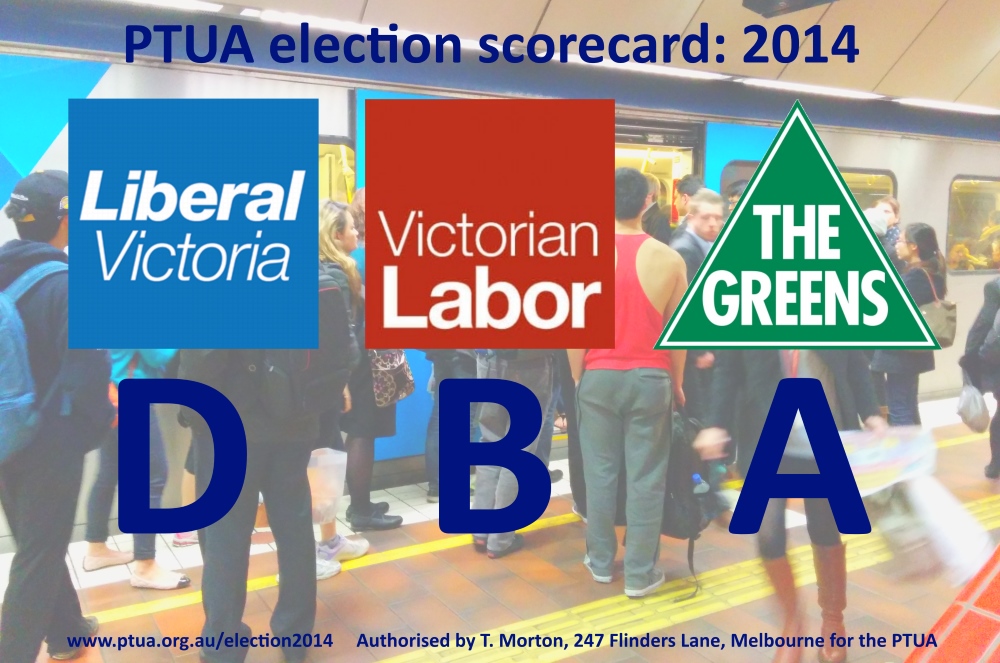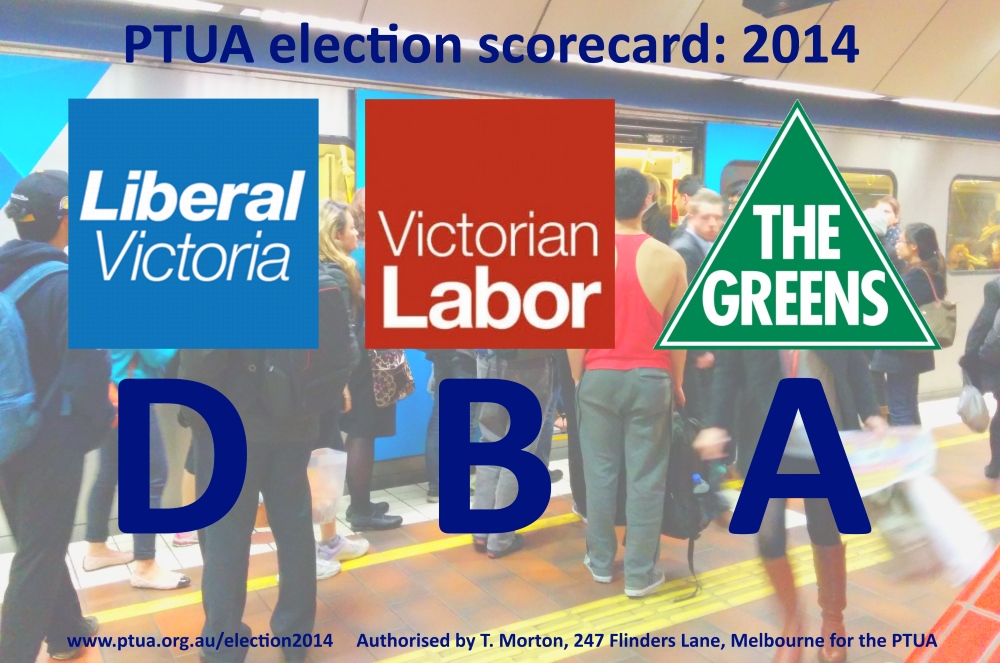 The PTUA rated the Coalition a D. "They have some good rail policies, but given the near-dumping of Rowville and Doncaster Rail, and years of delay on Southland station, we remain skeptical that those policies will be delivered.
"And the Coalition's rail tunnel plan is flawed. Apparently designed on the back of an envelope, it makes no sense to connect a line from the south-east to a line from the east, and in the process miss the busy Parkville precinct."
Labor scored a B, for solid policies around level crossing removal, a trial of 24-hour services on weekends, and its declared position that the East West Link will not go ahead under any circumstances.
"Grade separations will improve travel for motorists, public transport users, cyclists and pedestrians alike.
"Of the two major parties, Labor scored better on public transport.
"To address Melbourne's congestion issues it is vital that public transport is improved through operational reform and increased funding. But they will need to make sure East West Link is scrapped", said Dr Morton.
The Greens scored an A, for a good range of public transport upgrade policies, including relatively affordable tram extensions that will fill network gaps, and upgraded signalling for more trains, and a firm commitment to stop the East West Link.
Dr Morton said that public transport had swung the 2010 election, and it looked like doing the same this time.
"The people spoke in 2010: they want better public transport, not more big roads. Surveys indicate that's still what Victorians want[2] – but are the politicians listening?"
* * *
[1] Vehicle kilometres per capita. BITRE report 127, figure 2.13 (page 18)
[2] Recent polls include:
Herald Sun 18/8/2014: 62% said Labor's plan to remove 50 level crossings is more important than Coalition's East West Link (28%)
Herald Sun 3/3/2014: Which project should have priority? 34% said Airport rail, 30% said 50 Level crossing removals, 15% East West Link, 15% Metro rail tunnel.
The Age 2/3/2014: Which project should have priority? 42% said Metro rail tunnel, 27% said 50 Level crossing removals, 24% said East West Link
The Age 28/11/2013: 74% said improving public transport was more important than East West Link (23%)
* * *
Full scorecard details, and updates as the parties announce their policies: www.ptua.org.au/election2014