The Public Transport Users Association (PTUA) is calling on Geelong councillors to support a bid to the State Government for "tram-like" bus routes in Geelong.
The Association has been meeting with councillors to seek support for three high-quality bus routes along Geelong's major roads, as the first priority for upgrading the whole system.

It has also sought councillor support for simplified routes through central Geelong, and shared bus stops on the Malop and Moorabool Street corner.
"We should apply the principles of our former tram network to Geelong buses," said Paul Westcott, the PTUA's Geelong Branch Convener. "Buses need to run frequently, along direct and logical routes through the city and suburbs."
"Our current bus network, with its spaghetti-like tangle of routes, and up to hour-long gaps between buses, obviously doesn't meet Geelong's travel needs in the 21st century," Mr Westcott said.
"People are struggling to get seats on trains to Melbourne, but Geelong buses are actually carrying fewer passengers than before. Yet with traffic congestion, rising petrol prices and global warming, the need for useable local public transport is becoming ever more urgent."
Under the proposal, tram-like bus services would run at least every fifteen minutes along direct routes, and keep running until midnight, just as Geelong's trams once did. Mr Westcott estimated that the proposal was likely to cost in the order of four million dollars a year.
He said that providing more attractive services was the only way to significantly increase the number of people using the system.
Mr Westcott said the bus upgrade proposals were based on so-called Smart Bus services being introduced in the outer suburbs of Melbourne, which the State Government had failed to extend to Geelong.
"We need a united front on this if we're going to get support. Council needs to ask Premier John Brumby if he's serious about fixing our local public transport".
ENDS — but see maps below
THE FIRST THREE TRAM-LIKE ROUTES FOR GEELONG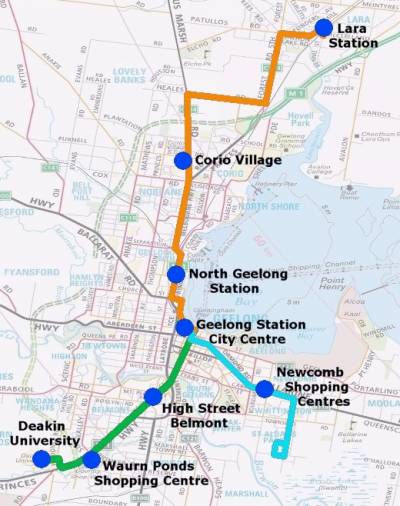 These routes run directly along major arterial roads, feeding railway stations, and serving major retail centres, universities and large residential areas. They would be the main routes of a generally upgraded bus system.
Services on these routes should run at least every 15 minutes from 6am until late evening, then at least every 30 minutes till midnight, seven days a week. This is approximately the same service standard already employed on Smartbus routes on major arterial roads in Melbourne's outer suburbs.
TRAM-LIKE ROUTES IN THE CITY CENTRE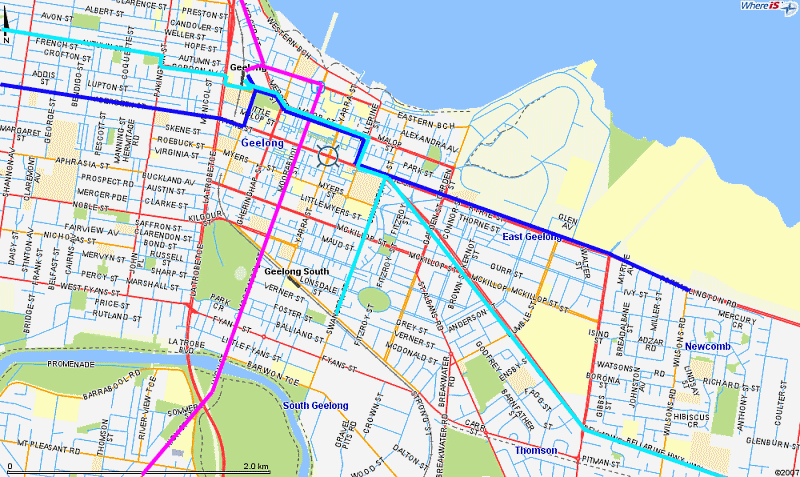 Bus corridors are shown in pink (Moorabool to Mercer Street services); dark blue (Aberdeen to Ryrie services), and aqua (Gordon Avenue to Bellarine Highway / Swanston Street services).
The corridors shown are only the central sections of routes. They deliberately do not show the entire length of routes and their suburban branches.
Through the city centre, all east-west services use Malop Street and all north-south services use Moorabool Street. All services connect to the Geelong railway station, and passengers can also make transfers between services at the intersection of Moorabool and Malop Streets.
This proposal assumes that the plan for a northern entrance to the station, on the corner of Mercer & Brougham Streets, has been carried out, providing bus access for north-south services. If the entrance is not provided, services could travel to the station via Malop Street and Railway Terrace.
Bellarine Peninsula buses would continue to run along Malop Street and terminate at the Railway Station.