While Climate Change is now a mainstream issue, the major parties continue to ignore the impact of transport — which accounts for up to half of household emissions. Better public transport would also relieve pain from petrol prices, traffic congestion, impact on obesity, access to education and work opportunities, and spread property demand better around our cities.
The PTUA has reviewed prepared a scorecard of the federal parties, so you can vote for public transport at this Saturday's federal election.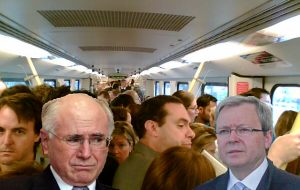 | | |
| --- | --- |
| Party | Rating |
| Greens | A- |
| Democrats | B |
| Liberal/National | D |
| Labor | D- |
| Family First | E |
MEDIA RELEASE
19 NOVEMBER 2007
Major parties ignoring transport emissions
An assessment of transport policies for the forthcoming Federal election has found the major parties are failing to address urban transport woes — including carbon emissions.
The Public Transport Users Association (PTUA) said that while some of the minor parties had joined the dots between emissions, transport, petrol prices and congestion, both Labor and the Coalition were not just ignoring the problems, but making them worse.
"The major parties have failed in the area of transport", said PTUA President Daniel Bowen. "They're clinging to the view that building more roads will solve problems, when in reality, they generate more traffic, causing more carbon emissions, and greater exposure to rising petrol prices."
Mr Bowen said that Federal governments in the past had contributed towards public transport infrastructure (including Melbourne's Cranbourne rail line and tram 86 extension to Bundoora) and that they should again, as recommended by a number of federal parliamentary inquiries. "The Federal Coalition is pouring billions into roads it claims are a State responsibility," said Mr Bowen. "State Governments must then match federal contributions – often dollar for dollar – leaving less State transport money for public transport. It's grossly hypocritical for the federal government to then turn their back on passenger rail investment that is urgently needed to provide an escape from congestion and high oil prices."
"Transport accounts for around half the emissions in the average household, and is the biggest contributor", said Mr Bowen. "It is no longer enough to replace your lightglobes and assume you're making a big impact. If we're serious about climate change, people have to have the options to leave the car at home more often and walk, cycle or catch public transport for as many trips as possible.
"For that to happen, governments need to provide those options. The Labor and Coalition policies of billions of dollars of new roads is precisely what we don't need. Likewise Family First's pledge to cut petrol taxes by 10 cents would only serve to encourage more driving."
The policy assessment noted that the Greens and Democrats had both pledged to boost spending on public transport. "Pledges from the Greens and Democrats to expand public transport and integrate it with urban planning would provide relief from congestion and high petrol prices in the mortgage belts of Australia's cities," said Mr Bowen. "Crucially only the Greens seem to be offering local communities a say in transport planning which could provide a break from the obscene pork-barrelling we see at each election. On the other hand, the major parties seem intent on locking families into costly and polluting car dependence."
Mr Bowen also warned against misplaced enthusiasm for biofuels. "Groups as diverse as the OECD and Oxfam are warning that biofuels could damage the environment and raise food prices while making little impact on emissions or petrol prices. Many parties are proposing targets and/or subsidies for alternative fuels that could be expensive mistakes when they should be focussing on alternatives to car dependence."
Mr Bowen said that there was still time for the parties to improve their rating, but time was running out. "High quality public transport is central to numerous federal policy objectives, such as climate, health and economic performance. We hope the major parties finally recognise this and make a serious investment in public transport," concluded Mr Bowen.