In the face of growing delays and overcrowding, the Public Transport Users Association (PTUA) has urged the government to take decisive action to overhaul train services, to cut waiting times, improve reliability, and to handle and encourage further patronage growth.
In releasing the PTUA's "Getting Melbourne's Rail System Back on Track" document, Mr Bowen said that while new timetable (which started on September 30th) added a few trains, it was time for a more radical overhaul of services, to boost peak, off-peak, evening and weekend train services, and make better use of the current rail infrastructure.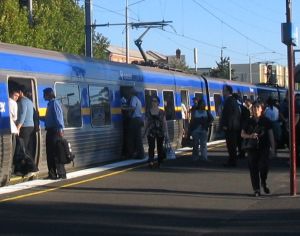 Mr Bowen said crowding was no longer limited to peak hour, with those travelling at other times also facing crowded trains, as well as long waits, with most lines running only every half-hour after 7pm. "And when they do show up, they're often so crowded you can't get a seat. This discourages even CBD commuters from using trains if they have to work late, or plan to stay out after dark. If we're going to encourage more people onto the train system, waiting times and overcrowding must be reduced."
The PTUA believes that priority actions for the next twelve months should include:
1. As soon as is practicable, provide more shoulder-peak trains, including express services, such that peak frequencies are maintained from 6:30am to 9:30am (inbound) and 4:30pm to 8pm (outbound), to immediately help spread peak loads over a wider timeframe.
2. Returning to service any Hitachi trains that are able to be done so cost-effectively. Upgrade as appropriate with new intercom and security systems.
3. Ordering more trains, to be put into service as soon as possible to boost peak-hour services.
4. With minor exceptions, all trains to run as six cars until at least 10pm, seven days-a-week, to avoid current overcrowding on off-peak, weekend and evening services[2].
5. A review of stopping patterns and operations, making use of recognised expertise and world's best practice, to simplify stopping patterns[1], make better use of spare track capacity (including running more trains direct to Flinders Street) and get more peak hour services running, ahead of the commencement of any infrastructure changes.
6. Prepare for a new timetable (including employment and training of new drivers and other operational staff) to boost off-peak services to at least every 15 minutes to at least 10pm, seven-days-a-week (20 minutes where 15 minutes is not possible until bottlenecks are fixed) to provide a consistent level of service across the entire metropolitan system.
7. Begin upgrading frequency and operating hours of bus and tram services (where required) to ensure modal coordination with the new rail timetable.
"These steps are all about using our existing infrastructure and train fleet more effectively. They would be the first steps towards providing a truly high quality, high frequency train service right across Melbourne, to not only handle recent patronage growth, but encourage continued growth", said Mr Bowen.
In the longer term, the PTUA's document calls for:
Commitment to duplicate single-line sections of track (including Altona, Epping, Cranbourne and along the Hurstbridge line) to allow trains to run more frequently
Following on from the recent successful opening of the Craigieburn extension, electrification to growing outer-suburban areas such as Sunbury, Baxter and Melton (including a new station at Caroline Springs)
Extensions and new lines into suburbs not currently served by the rail system, including South Morang and Mernda, East Doncaster and Rowville via Monash University
"Despite recent strong patronage growth, Melbourne's train network is under-performing. Many stations have infrequent services, even in peak hours. With boosts to services and some extensions, it has the potential to attract more people out of the traffic and onto the trains, to better serve the city as a whole, and to make a bigger difference to Melbourne's liveability.
"Immediate and decisive action must be taken to handle demand. To not grasp this opportunity to set the public transport system on a path of continuing growth is to condemn the government's 20/2020 goal to failure", concluded Mr Bowen.
***
Full plan download PDF (232 Kb)
Notes
[1] Examination of current train timetables shows a wide variety of train stopping patterns on some lines, including 13 different variations between the city and Ringwood alone (excluding City loop variations.)
[2] The PTUA has found that weekend and evening services are regularly overcrowded due to use of short trains. See Connex driving away customers — Call for weekend train upgrades (3/11/2006)