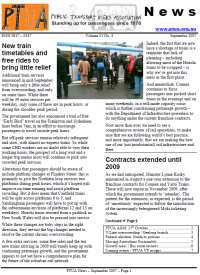 Please join the PTUA to receive regular newsletters.
September 2007 edition articles:
New train timetables and free rides to bring little relief
Contracts extended until 2009
PTUA Annual General Meeting: Thursday October 25th
V/Line overcrowding now rampant
Geelong branch: two years of "temporary" bus stops
Federal election: Guide to policies
Fund the Gap – infrastructure in growth areas
Bus route reviews continue
PTUA lobbying behind the scenes
Coming events
PTUA Vice-President resigns
Members can read this edition online.
Erratum: The printed newsletter credited Margaret Dingle for heading the mailout team. This should have read: Margaret Pullar. This has been corrected in the online version.