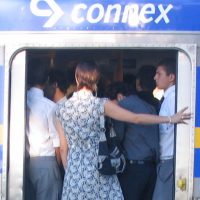 The Public Transport Users Association (PTUA) today called on the Bracks Government to commit to not renewing the suburban train franchise with Connex in 2008.
The call comes after unprecedented disruptions to train services, due to problems with the braking systems on Siemens trains.
PTUA President Daniel Bowen said Connex had been aware of the brake problems for over two years but still went ahead and scrapped the Hitachi trains that the Siemens trains were supposed to replace.

"This blatant mismanagement should not be rewarded with an extension to the Connex franchise. The expertise we were supposedly paying for just isn't there," he said.
"This debacle shows that the train and tram franchise models are seriously flawed. They give too much freedom to private operators and can't be relied on to protect the public interest."
Mr Bowen said that under the franchise model, operators were allowed to prematurely scrap the Hitachi trains, as well as buy the troubled new trains without proper public scrutiny.
"And it's not just the operators: we also need to reform the tangled bureaucratic structure that appointed them in 2003 and has let them get away with this mismanagement ever since," Mr Bowen said. "We need to start setting up a public authority with world-recognised expertise to plan, manage and – if necessary – run our public transport."
Mr Bowen said that if private operators were to be involved at all, they would simply run services specified by the authority in competitively tendered, fee-for-service contracts.
"A strong, accountable public transport authority is the only way to stop the endless buck-passing between the Government and operator. It would also control the purchase of any new trains in the long-term interest of the system and the travelling public."
"Operators may come and go, but Melburnians are stuck with the system they leave behind. The natural expiry of the franchises at minimal cost to the taxpayer is a great opportunity for the Bracks Government to fix things, and we're looking for leadership from them on this issue."