In the face of regular overcrowding, the Public Transport Users Association (PTUA) has called for Connex to run six-car trains every weekend on the busiest lines.
PTUA President Daniel Bowen said overcrowding on short trains was totally unacceptable when there were hundreds of empty carriages sitting in sidings doing nothing.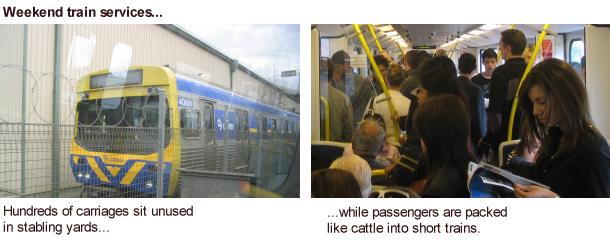 "Every year when the footy season is over, Connex reverts to short trains", Mr Bowen said. "With the high price of petrol, discounted tickets such as the Sunday Saver, and free Sunday travel for the over-sixties, the number of passengers has been climbing. And the abolition of zone 3 will make things even worse on the longer lines."
Recent figures showed train patronage has jumped 11 percent in the past 12 months[1], but there have been no major additions to weekend metropolitan rail schedules since 1999. While long trains run on days with events such as Spring Carnival racing, an increasing number of less prominent events in Melbourne's CBD has resulted in more train passengers on weekends.
"Overcrowding is now reaching intolerable levels on some lines, with people crammed in like cattle at busy times. In some cases passengers are left behind, forced to wait twenty minutes for the next service. Anyone trying the train for the first time in these conditions would high-tail it back to their car, and who could blame them?"
"This is not about a lack of trains. It's not about no spare track capacity or a shortage of drivers. It's just pure stinginess on the part of the government and Connex, and a blatant failing of our privatised transport system."
While the government has claimed to want to increase public transport usage, Mr Bowen said that despite more demand for public transport, not enough was being done to accomodate the extra passengers. "How can they possibly increase patronage if there's physically no room to get more people on board?"
—
[1] The Age, 6/9/2006: "Petrol costs drive rise in public transport use"
Weekend overcrowding hotspots: 3-car trains arriving in the city on lines through Richmond, late-morning/early-afternoon Saturdays and Sundays; trains leaving the city on lines through Richmond, late-afternoon Saturdays and Sundays. Note that 6-car trains normally run on days when AFL football, horse racing or other major events are on, though these events often cause localised overcrowding.
Video
Channel 7 news, 3/11/2006: