Public transport users have challenged the major parties to bring three key Geelong bus routes up to standards set in Melbourne's outer suburbs.
Despite generally poor standards, buses on some major routes in Melbourne's outer eastern suburbs run every 15 minutes during the day, and have services until midnight. For example, the new Wellington Road buses meet this standard and also run half hourly till midnight.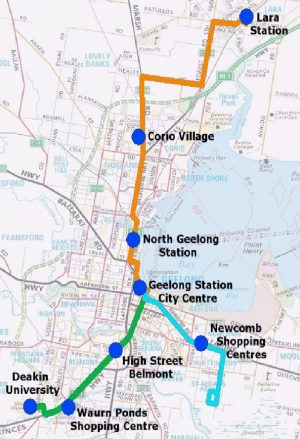 The Public Transport Users Association's Geelong branch has called for three major Geelong bus routes to be brought up to the same standard within 12 months after the election, as a forerunner to upgrading the rest of the network.
"It'ss about time Geelong got its fair transport share," said Geelong branch spokesperson Tim Petersen.  "The routes we've identified are "no-brainers" – they link major retail centres and universities, feed railway stations and run along major arterial roads. They also run through areas that are less well-off than their Melbourne counterparts."
"Frequent, direct services are the key – just as you'd expect from tram routes. Most people won't wait half an hour to an hour for a bus at the busiest times of day, when that trip might take only 15 minutes by car."
"This upgrade would be a major breakthrough for Geelong's public transport, bringing service levels back towards standards not seen since trams last ran in Geelong. People could actually use public transport to get to and from work, and to go out for dinner and a movie."
Mr Petersen said the new routes were conservatively costed (based on industry standards) at $4 million a year, which did not take into account increased fare revenue.
He said new services could be introduced within about 12 months, allowing enough time for the training of new drivers and the ordering of new buses. Resources released from parallel sections of current bus routes could be redeployed to introduce new routes and improve services in other parts of Geelong.
"Improving these few bus routes should only be the start of upgrading the entire network. Everybody living in Geelong's suburbs and nearby towns should be within walking distance of decent public transport."
The three proposed Geelong trunk routes:
(Exact routes to be determined in consultation with the community)
Route 1 to Deakin University
Geelong Station – Moorabool Street – High Street – Princes Highway – Deakin University
(Serving Geelong Station, City Centre, Kardinia Park, Barwon River, High Street Belmont Shopping Centre, Waurn Ponds Shopping Centre, Residential Growth Areas, Deakin University.)
Route 2 to Whittington / St Albans Park
Geelong Station – Ryrie Street – Ormond Road – Bellarine Highway – Coppards Road – loop through St Albans Park to return.
(Serving Geelong Station, City Centre, Hospital Precinct, East Geelong Shops, Ormond Road, Bellarine Village Shopping Centre, Newcomb Central, Newcomb Secondary College, Splashdown, St Albans Park Residential Growth Area.)
Route 3 to Corio / Lara
City Centre – Geelong Station – Mercer Street – The Esplanade – Glenleith Avenue – Melbourne Road – Bacchus Marsh Road – Heales Road – Forest Road – Station Lake Road – Lara Station.
(Serving City Centre, the "Western Wedge", Geelong Station, North Geelong Station, Major Industries, Highway Retailing, Corio Village, Heales Rd Industrial Estate, Lara, Lara Station.)