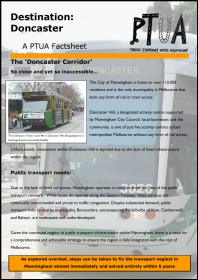 The Public Transport Users Association (PTUA) has demanded that all political parties reverse the ongoing public transport neglect in Manningham and Doncaster.
"Manningham remains the only municipality in Melbourne without any form of rail or tram access", PTUA Vice-President Alex Makin said. "As a result public transport patronage in Manningham is depressingly abysmal and will forever be minimal unless fixed rail infrastructure is provided immediately".
Public transport patronage in Manningham is just 7.3%, below the Melbourne average of 8% and less than the neighbouring manipulates of Banyule (10.6%) and Whitehorse (11.6%), both of which have fixed rail infrastructure.
"We have seen a government hell bent on not improving public transport infrastructure and instead proposing airy fairy options such as busways which have notably failed in other areas such as Adelaide", said PTUA spokesman and Doncaster resident Chris Trikilis. "Electric buses are costly to implement, require high maintenance and do not have the capacity or the ability to strengthen investment within the region".
"The extension of tram route 48 along Doncaster Road is simple, affordable and benefits the entire community. The extension of tram 109 revolutionised Box Hill and is the envy of other suburbs. Doncaster, given the decades long neglect, deserves and urgently requires the immediate tram extension to Shoppingtown. This extension could be built within twelve months, if political candidates were serious about Doncaster", Mr. Makin said.
"The four kilometre extension of tram route 48 would improve the efficiency of public transport, since the tram would serve the overcrowded park and ride facility and remove the need for bus services that currently duplicate part of this tram route. These buses could be re-deployed throughout the rest of Manningham providing better services for the entire region", said Mr. Trikilis.
"As seen in Perth, a rail line could be planned and operational within five years. Perth was previously a public transport backwater and is now the envy of sustainable transport in Australia. Manningham has been neglected for far too long, it is time for our politicians to provide action and not excuses. We need immediate action with the tram extension followed by a commitment for the Doncaster rail line within five years", Mr. Makin concluded.
More information: Factsheet: Destination Doncaster (PDF, 621Kb)
Media coverage of this story: The Age Online, 18 October 2006: Rail line 'would replace 10,000 cars'