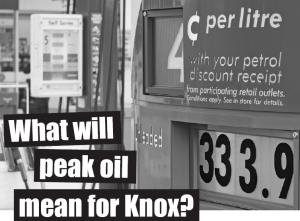 FREE screening of the documentary The End of Suburbia about the end of the age of cheap oil. Introduced by weather man and environmental ambassador Rob Gell.
Sunday June 4, 1:30 – 3:30 pm
Rowville and District Neighbourhood House
20 Fulham Road, Rowville (Melway 81 K1)
The film screening will be followed by a discussion about how we can adapt our communities, transport choices and lifestyles to living with less and more expensive oil.
Brought to you by Environment Victoria, the Public Transport Users Association, and the Knox Environment Society.
More information: