See also:
Travel and disruption information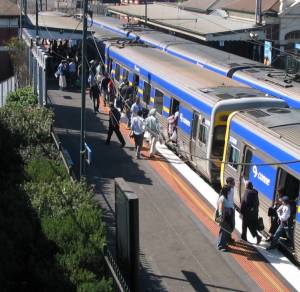 Public Transport Victoria: Disruptions; App; phone 1800 800 007
Metro Trains: Line status; Planned works calendar
Yarra Trams: Tram Tracker
V/Line: Line status; App
Dealing with service disruptions
Obviously disruptions can vary according to individual circumstances. But here are some things to keep in mind:
Know your alternative routes: Is your destination served by other modes, which normally would be slower, but may be useful in emergencies? Can you catch a parallel train line to your usual one, then catch a cross-suburb bus or tram? It's worth a little research before it happens.
Disruptions in the loop frequently result in trains running direct to/from Flinders Street. It may be helpful to go either to Flinders Street, or another interchange station outside the CBD (eg Richmond, North Melbourne, Caulfield)
Find out what's going on. Sometimes there will be alternative services in place. Sometimes services will be re-routed around the disruption (this often happens for CBD tram services). If staff on the ground don't know, then ring Metlink or the operators to find out what's happening.
Radio and online sources may also tell you what's going on. (See links above.)
Look for running services which may get you part or most of the way, to a point where you can walk or get a taxi the last stop or two.
If you do give up and try to find a taxi, others may be doing the same. It may be quicker to call and book a taxi than find one at a rank or on the street.
Ticket tips
2-hour fares touched-on at or after 6pm are valid until 3am the next day.
A daily fare (i.e. the Myki Money Daily Cap) is also valid until 3am.
Fares only need to be valid at the start of your trip. As long as you touch on (while entering the station, or boarding the bus or tram) before the journey time expires, it's valid until you end your journey. You won't get charged again when you touch-off.
Myki Money in Melbourne zones 1+2 will charge you a maximum of $6.70 on Saturdays, Sundays and public holidays.
If you usually travel in one zone only and find you need to go into the other zone one day, you can use a Myki Pass (weekly, monthly, yearly fare) for your regular travel, and Myki Money for any extra zones.
All V/Line travel to and from metropolitan Melbourne (whether you are using Myki or a paper ticket) includes access to Melbourne's metropolitan trains, trams and buses at no extra cost. If you depart from or arrive into Zone 1 (which includes central Melbourne), your free access will be for both zones 1 and 2. If you depart from or arrive into Zone 2, your free access will be for Zone 2 only.
One-way (single) trips on V/Line include one hour's free travel either side of your journey. If you make a return journey you get free travel all day. That includes travel on the major regional city bus services (Geelong, Ballarat, Bendigo and the Latrobe Valley), so your journey to or from any station in those cities will be free. More information from V/Line (see: Extra travel included).
Want to read the fine print on tickets? See the Victorian Fares and Ticketing Manual
Trains
Ensuring you stand behind the yellow line helps train drivers see if it's safe to depart, helping the trains to run on time.
Stand on the left of the escalators at stations, letting those in a hurry walk on the right.
If you have a pram, it helps the driver to see you if you board near the front of the train. It's usually easiest to push the pram on forwards, but pull it off backwards — that way you can see the wheels are over the gap. See also PTV's advice on this topic.
On V/Line, reservations are necessary when travelling on any "long-distance" train services, and some coach services even if you're travelling only a short distance. More detail from V/Line (section: Reservations).
Non-PSR "ghost trains"
Non-PSR (Non-Passenger Service Requirement) "ghost trains" run predominantly on weekdays. They are used to get trains into position to run other services, and may be cancelled or altered at any time without Metro being penalised.
You can find an old list here (sorry, we don't currently have an up-to-date list). They may save you time, but remember, you can't rely on them.