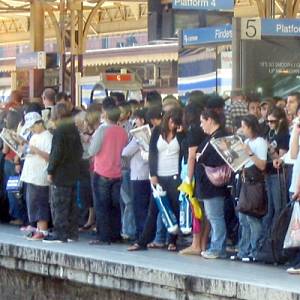 With the rail system in crisis (again), now is the time to remind the government that they must be accountable.
Despite polls showing people would prefer more money be spent on public transport than roads, the government is planning massive expansion of the motorway system under the most recent transport plan. Meanwhile our rail system is falling apart, and most of Melbourne has no usable public transport. The government is clearly not listening.
WHAT: Stop the Brumby Government riding roughshod over our rights.
WHEN: Tuesday 3rd February Arriving at 11.30 am. Speakers begin at Midday.
WHERE: Parliament House, Bourke + Spring Sts, Melbourne.
WHY: Bring back democracy.

Tuesday 3rd February is the first sitting day of parliament for the year. A coalition of community groups, led by the Victorian Water Forum, is holding a rally to call on the Brumby government to listen to the people and provide real solutions on water, climate change and public transport. PTUA is supporting this call, and will be attending.
Come along to the front steps of Parliament in your lunch hour and stand up for better public transport and real action on climate change.
Victorian Water Forum: Plug The Pipe Watershed Victoria Clean Ocean Foundation
Facebook members: Show your attendance on Facebook