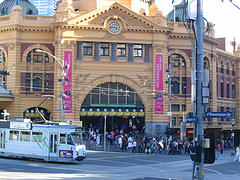 Join the Coalition of Transport Action Groups for a community rally and picnic, starting at Flinders St Station and ending up at the Alexandra Gardens opposite the National Gallery of Victoria.
Where: Steps of Flinders Street Station
When: 11:15am for 12 noon, Sunday 26th October 2008
Keynote speaker: Daniel Bowen of the Public Transport Users Association.
Please bring banners and placards supporting sustainable transport and opposing the Eddington tunnel.

The Coalition of Transport Action Groups (CTAG) is a newly formed coalition of resident, action and environmental groups from east, central and west Melbourne. They oppose Premier Brumby's Transport Plan and advocate for sustainable public and freight transport.
More details: Yarra Campaign Against the Tunnel web site