The PTUA today presented its petition for the Canterbury Road SmartBus to Robert Clark MP, Member for Box Hill. The petition, consisting of over 380 signatures, was presented by Outer East Convenor Jeremy Lunn and PTUA member Andrew Sadauskas at the Box Hill bus interchange.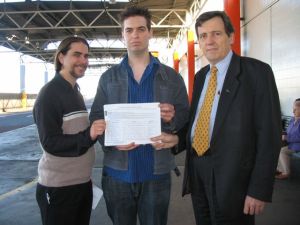 The PTUA's current proposal for the SmartBus will run from Box Hill, along Elgar Road, then Canterbury Road (via Forest Hill Chase) to Heatherdale Road. It would then run along Heatherdale Road, Maroondah Highway, New Street and Bond Street to Eastland, before terminating at Ringwood railway station.
Although the government has announced that the 765 will be upgraded to minimum standards, this upgrade is no substitute for SmartBus. Movie goers at Forest Hill will still be disappointed to find the last bus departed without them, as many films finish after 9pm. In addition, the SmartBus will offer a quicker and more direct route than the current 765 route, which meanders through the back blocks of Forest Hill and Blackburn. This will prove far less confusing for new and irregular public transport users
The upgrade to minimum standards will not improve frequency either, as minimum standards are based on a very basic hourly service level. The SmartBus would provide a bus every fifteen minutes. Such a service would operate seven days a week until midnight.
We wish to thank our members for their hard work towards collecting signatures for the petition.