The PTUA is pleased to hear that the Minister for Public Transport, Lynne Kosky, will review the ban on bikes on peak hour trains.
1-Feb-2008: We are advised that in the mean time, no action will be taken against any cyclist with a bicycle on a peak hour train.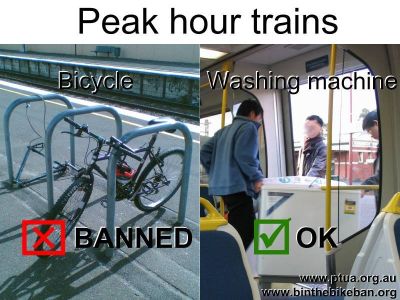 The PTUA remains opposed to the ban. We believe such a ban makes minimal difference to overcrowding (reportedly less than 100 cyclists use trains at peak times) while severely impacting those who have a genuine need to take their bicycle on-board. There are other more effective measures that can be made to relieve overcrowding on trains, without banning particular groups of passengers.