Come and discuss public transport issues, and how you can help get them fixed, with the PTUA committee and with other members.
Next member meeting
Where: Ross House, 247 Flinders Lane — Level 4
When: Friday 17th July 2015, 6:30pm Unfortunately, this event has been postponed. We will advise when/if it can be re-scheduled.
Topic: PTUA presents a screening of the Outer Circle railway documentary, with filmmaker Ron Killeen taking questions afterwards. Admission $5, proceeds to go to the PTUA and to the filmmakers for their next production.
Note: Normally you must be a current PTUA member to attend these meetings (an exception applies to this meeting, as it is a fundraiser). You can join now or at the meeting. (Please bring correct change if paying by cash.)
---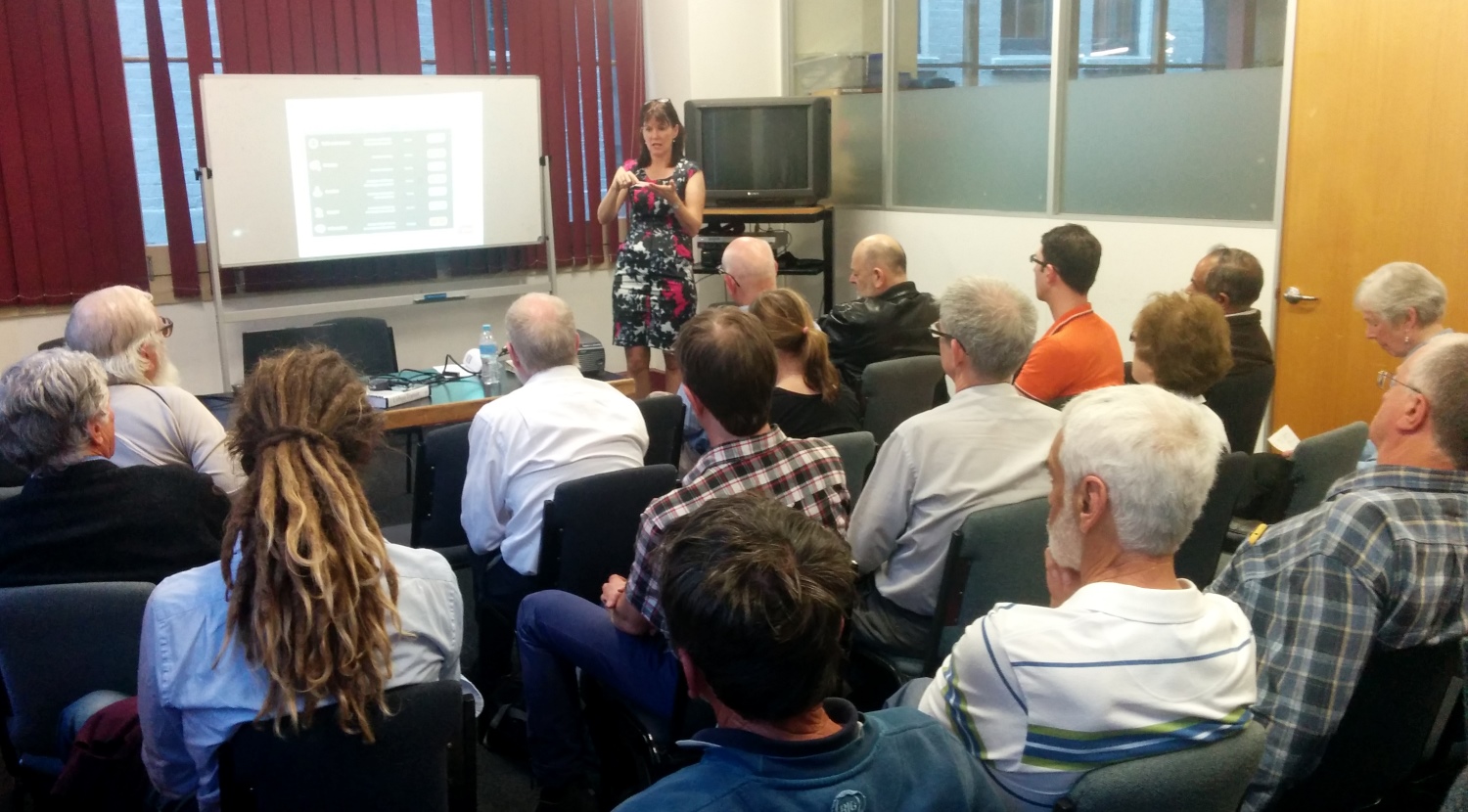 Past meetings
30/4/2015 — Ian Woodcock from the University of Melbourne, on how Melbourne can achieve grade separation at large numbers of level crossings cost-efficiently and with a good outcome for local communities.
10/12/2014 — 2014 Annual General Meeting. Review the year (and the election just gone), and a presentation: "How sustainable transport networks build great cities."
30/10/2014 — Carol-Anne Nelson, Executive General Manager — Customer, V/Line.
28/8/2014 — Alannah MacTiernan, former Western Australian transport minister.
28/5/2014 — Gordon Price, transport expert and former councillor from Vancouver, Canada, on transport and planning issues.
14/11/2013 — Annual General Meeting. Chris Hale from University of Melbourne. Inaugural Paul Mees award for sustainable transport advocacy.
22/8/2013 — Professor Nicholas Low, Melbourne University
27/6/2013 — Community Campaign meeting
26/3/2013 — Professor Michael Buxton, planning expert from RMIT
11/10/2012 — Annual General Meeting
23/8/2012 — Felipe Carvajal, former transport planner at the National Planning Department of Columbia. The video that Felipe was unable to show, illustrating the change in road priorities from cars to public transport and bikes, is here: Cities on Speed – Bogotá Change
3/5/2012 — Ian Dobbs, CEO of Public Transport Victoria
22/3/2012 — Janine Young, Public Transport Ombudsman
8/12/2011 — PTUA Annual General Meeting
25/8/2011 — Terry Mulder, Minister for Public Transport
30/6/2011 — Phil Hart from, Australian Association for the Study of Peak Oil (ASPO)
24/3/2011 — Andrew Wall, Manager Network Operations from VicRoads
9/11/2010 — PTUA Annual General Meeting
26/8/2010 — Chris Loader from BusVic
1/7/2010 — Andrew Lezala, CEO of Metro Trains
11/3/2010 — Linda Nicholls AO, Chairman, Yarra Trams
Branch meetings
Our Geelong and Outer East branches also have monthly meetings. See page 2 of your newsletter for details.